By Susan Pavan.
People were upset. They expected something to change. There was a tsunami of freedom. People don't want to go back to their old lives. They want to stay. They want to start a new way, a new life.
Everywhere you go people are smiling at you, hugging each other. After the last two years separated from normal society, people have found a new Australia here. They can't believe how wonderful it is.
Everyone says they are doing it for the children. I can't believe the energy. I was walking around at 1.30am, and people were still pouring in. It hasn't stopped.
Here are some quotes from people I met on this amazing day.
---
One dad piggybacking with his daughter on his shoulders wore a t-shirt with the message: "There's a future version of me who's proud. We are strong enough!"
Other members of the family, from Coffs Harbour in NSW, all wore messages blazoned on their outfits: "Mandate Medical Freedom", "Freedom Over Fear" and "My body, My choice, My Children."
"I have never seen anything like this, this is outstanding, it takes your breath away. The energy is just incredible. It just blows you away. There are so many people thinking the same way."
And then he starts crying.
---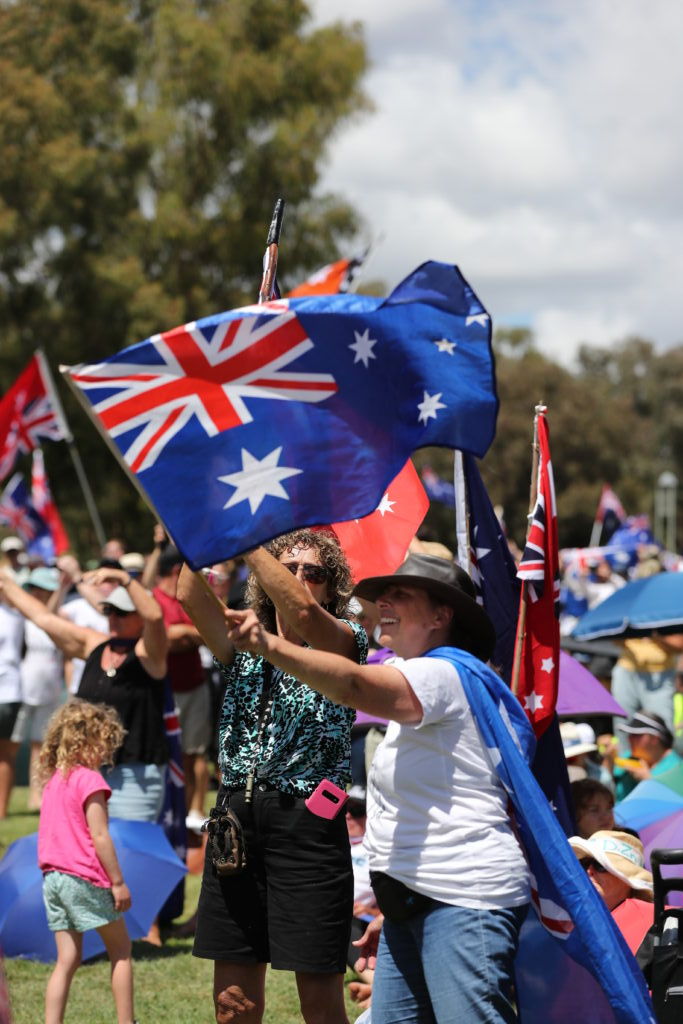 Brent, 34, who owns a construction business from Western Australia, describes himself as a "vaccine survivor".
"I spent 20 days in hospital and I was told the whole time it was anxiety," he says. "My wife and children are at home in WA. I want to go home as soon as possible. And that's when we achieve our goal.
"At this point time I can't legally get home. I'm doing this for my kids, and if I didn't have the adverse reaction I wouldn't have woken up and my children would be vaccinated.
"When I left WA I was eligible to return because I was double vaxxed. As soon as you are due for your booster, you have to have it, which was the day I arrived in Canberra.
"My children will only be vaccinated over by dead-vaxxed body."
---
Julie from Queensland, was in a wheelchair with a t-shirt blazoned "Be Kind". She said: "I'm here for my grandchildren. I don't want this country to be totally different to the way it's become. I want their future to be free from the government telling them what to do.
"We go the rallies in the Brisbane and the Sunshine Coast, and this is so big. Amazing."
---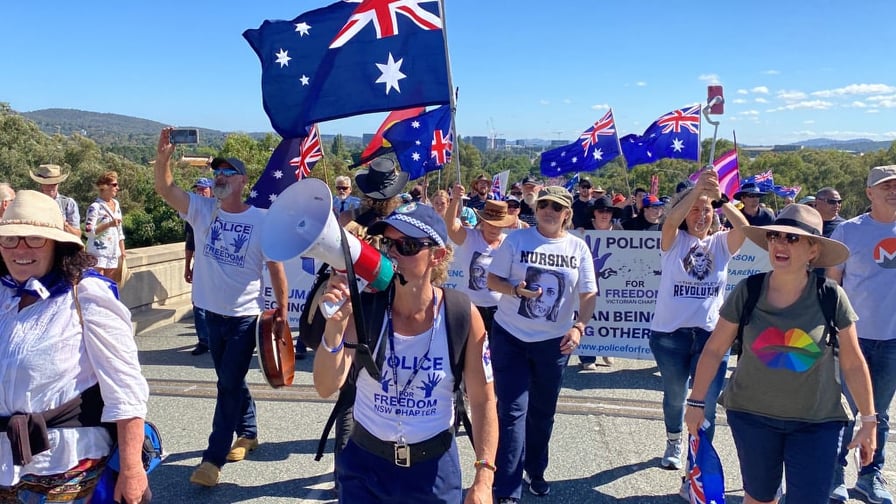 A group of former police officers, wearing signs and carrying banners "Police for Freedom: We are human beings serving and protecting other human beings."
I believe these are the frontline workers for freedom.
A former policeman of 41 years, "Mitchell", said: "I served in the police for four decades. We had a really good police force. I am really disgusted in how Victorian Police and the Union at the brutality with which they showed towards the police. I am here to support my Australian brothers and sisters in their quest for freedom. I am not non-vaxxed. I want everyone to have a choice. I'm so glad I'm out of the police force."
---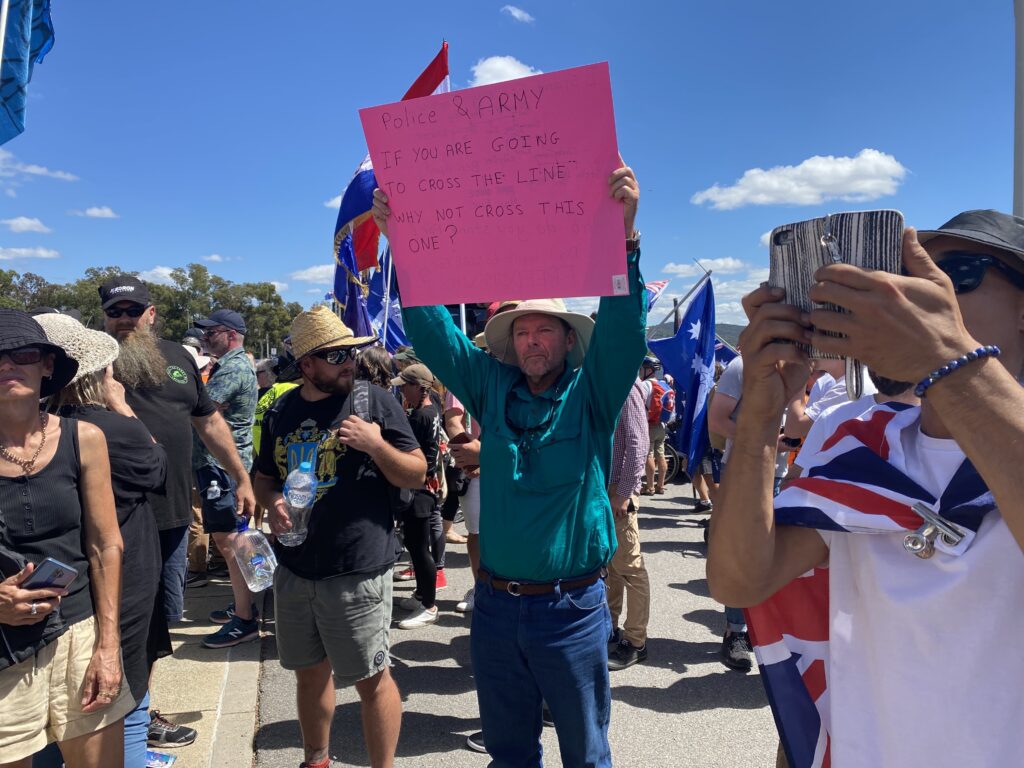 Jasmine, from Sydney, who took her dog, said: "I'm here for the future generation. I am here for my children. I want to see all the systems crumble down."
---
Jared from Taree had just one strong message: "The mainstream media are liars."