The Digital Realm Outflanks the Official Narrative
The breakup of Australia and the breakdown of Australian society is also transforming the media landscape.
One figure, the Real Rukshan, has captured a significant following, and even plaudits from some of the mainstream media, who are no doubt taking note of the enviable imprint he is building amid the optics of Australia's collapse.
Way back in September, which already seems an aeon ago, Melbourne paper The Age wrote:
"As masses of riot police with guns drawn moved in on hundreds of protesters occupying Melbourne's Shrine of Remembrance this week, tens of thousands of people were watching from home through the lens, and eyes, of a videographer known as Real Rukshan.
"His high-quality, live-streamed broadcast of the unprecedented scenes, which escalated into the firing of rubber bullets and pepper balls, offered viewers a front-row seat.
"For months Rukshan Fernando, 36, has been a key documenter of the often violent protests that have become an almost daily occurrence in the world's longest locked-down city, shocking and enthralling a weary populace.
"Shot from the centre of the action, and depicting violence from both protesters and police, Fernando's coverage as an "independent journalist" has captured a live audience."
Fast forward to the present day and his four hour plus live stream of Melbourne's massive protests over the past weekend has at the time of writing attracted 456,000 views, 33,000 likes and 29,000 comments, statistics which would please any mainstream outlet.
Rita Panahi at Sky News has been one of the first to recognise the significance of the rise of civilian journalists and the mainstream media's destruction of their own credibility by their constant demonising of protestors and subservience in dispensing misleading government propaganda.
In less than two years Australia has been utterly transformed, no longer a united country in any sense. The bureaucratic madness of vaccine mandates and medical apartheid has escalated the conflict. "Enough is enough" was one of the themes of this past weekend.
---
To view the full 4 hours of coverage go here: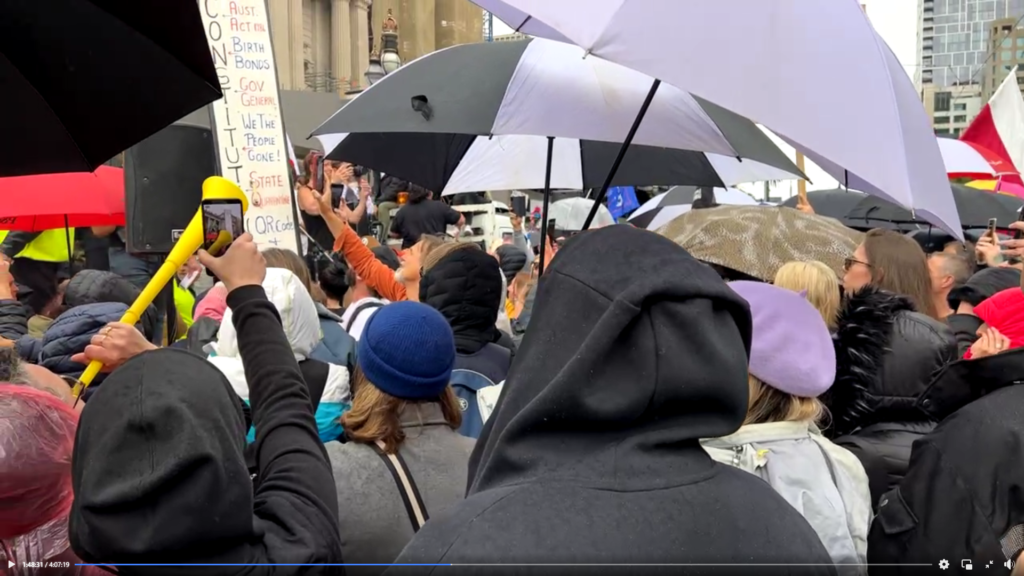 Here is an accelerated version lasting just over four minutes:
And here are some stills from the the weekend's events.