Susan Pavan: i3 Publications.
Tyranny is on our front door step, according to groups fighting for freedoms lost in Australia.
It was 4.55am, dark, almost dawn, pearly droplets nestled one-by-one on a banksia leaf. The air was crisp, the street silent.
Just over one hundred years ago, on April 25, 1914, fleets of young soldiers sailed into an ocean filled with boyhood curiosity of adventure; new lands and great battles…
Australia's official historian, Charles Bean, later described this critical moment:
Lieutenant Talbot Smith with the scouts of the 10th Battalion [from South Australia], thirty-two in number, had struck the shore just after the first shot was fired. 'Come on, boys', he cried, 'they can't hit you' … '10th Battalion scouts,' he shouted, 'are you ready?' He then led them straight up the height, while the Turks were firing over their heads. From the left hand edge of the plateau could be seen the flash of a machine-gun. They made towards it.
Fierce as such was the Turkish resistance. Turkish reinforcements had arrived under the command of Lieutenant Colonel, Mustafa Kemal, by mid-evening….
After sunset, Major-General William Bridges, commander of the 1st Australian Division, and Lieutenant-General, Sir William Birdwood, commander of ANZAC, collaboratively advised, General Sir Ian Hamilton, Commander-in-Chief, to imminently withdraw the Allies from Gallipoli.
Sir Hamilton decided against their recommendation ordering the troops to dig trenches. Legends show how the Anzacs held on for the crucial first night. More than 2000, out of he 16,000 men who landed during the first day, had been killed or injured by the next morning.
These soldiers, in a blink of an eye, rose from boys to men in a violent initiation of war along the rugged peninsula of Gallipoli….In what has been described as the baptism of fire, in the shadows of the trenches and treacherous conditions; the legendary tales of the ANZAC was born. A formidable force. A fighting spirit. More than a myth or a fable of fearlessness; passed down through the generations at campfires; bedtime stories and in the minute of silence at the local RSL club on Friday night dinners.
Australian Prime Ministers but a few, reluctantly enable the spirit of Anzac Cove to the Australian public…In just over one decade this once a ferocious whistling spirit, is now of a whisper in the average Australian's everyday lives.
Mortgages; high rents, screen-time and the breakdown of the family has left little time for legends to grow…Australia's national identity of that resilient Anzac spirit, once studied at schools and in universities, has been replaced with identity politics and a new wave of socially engineered sacrifices that would seem foreign to those living through both world wars.
Though, for just one day the legend does reignite for many everyday Australians. Proud and in growing numbers; many pay their respects to past and present service men and women at dawn services nation-wide…
Later in the day crowds make it to their local watering hole to play one or two of the war-time game, Two-Up… But this is the closest most get to the Anzac spirit.
This writer wholeheartedly recognises there are still many service men and women honouring the ANZAC spirit in their everyday services. These soldiers in all wars, fight for the freedom for all and not just few.
Since Covid-19 the phrase "the greater good", a propaganda phrase born from Communism and also used in fascist regimes, has created a greater division in this country. More than ever present day, disturbingly the support of such political groups ever increase.
Australians citizens were told to comply to draconian Covid-19 restrictions and vaccine mandates. In a time when words such as "inclusive" and "tolerance" have become newspeak, segregation and indifference for growing cohort in Australia is prevalent.
While the state-funded Australian Broadcasting Corporation (ABC) aired an Anzac Day special, the broadcaster included the story of LGBT soldiers. The report acknowledged discrimination.
Quite rightly so, it included the First Nation's own Anzac Day parade and backstories of how the diggers were excluded from parades and acknowledgments.
However what the ABC did not report was the discrimination we are all seeing right now, today, April 25, 2022, against those who disagree with the government's hardline response to Covid-19.
On this day of remembrance the unvaccinated people in Western Australia are excluded from the Anzac Day services; football games, citizens are faced with requirements to be stamped with "vaccinated" to be accepted in pubs to part-take in an Anzac traditional game of Two-Up.
What b#l%sh!t 60k can go and scream, spit and sliver over each other at the footy but not allowed to go to a Anzac ceremony – no chance….
Social media post by Western Australian resident.
Throughout the rest of Australia these divisive restrictions used by both communist and fascist regimes, branding people in a bid to seperate were also used in Nazi Germany against the Jewish people and during the era of white policy Australia…Despite the disease being the 38th cause of death, according to offical Australian Bureau of Statistics (ABS).
While the ABC did report on the private home dawn services during Covid-19 lockdowns, the broadcaster did not report on how diggers were barricaded out of the Anzac war memorial in Victoria over the last two years. Veteran, Mr John Murphy, who attends freedom rallies up and down the east coast of Australia reminded the protesters of stories on how the ANZACS fought for freedom for all.
Mr Murphy and the people of Victoria, who attended the protests against lockdowns want all Australians to know of the police brutality experienced towards those fighting for freedom of movement and choice that took place in this country.
At the Anzac Shrine in Victoria; veterans at the freedom protest told this writer of how the protesters were met with rubber bullets. Not too far away at another protest a woman in her 70s, with an Australian flag, draped around her shoulders like a cape, was knocked down by two police officers and pepper sprayed right into her eyes.
You see in Australia, those fighting against Covid-19 restrictions are reported as "undesirables"; "anti-vaxxers", "conspiracy theorists", "selfish" and "bludgers". Yet it does not stop them gathering at nation-wide protests weekly.
Just two days before Anzac Day, a sleepy town in the Hunter Valley, New South Wales, was met with around five hundred people protesting through carrying Australian flags.
They presented in support for a Hunter Valley watering hole labelled the 'Freedom Pub' on its stance against vaccine mandates.
The licensee, had launched a new "discrimination" battle, taking on the local council over a "controversial" flag fixed to its roof.
"The significance of ANZAC day is unparalleled," said licensee, Mr Brad Hill. "Just what these brave men and women sacrificed their lives for has never been more apparent than over the last few years.
"ANZAC day is the 25th of April and has been since 1915. A day where young and old, man, women and child stand together in solidarity, pay their respects and remember those who have made the ultimate sacrifice for what is undeniably under threat today, our very own freedoms."
The Caledonian Hotel in Singleton, known to locals as "The Cali", went viral last year after the licensee repeatedly defying Covid restrictions by continuing to serve unvaccinated patrons.
Mr Hill decorated the pub's roof with an Australian Red Ensign flag used commonly in the 19th century and was the flag bared in World War I. It is reported on September 3, 1901, following Federation, the Australian National Flag (Blue Ensign) became the official national flag of Australia, and has remained so ever since.
The mainstream media reports the red flag is commonly used by anti-government and "anti-vaccine" protesters. After hundreds of hours reporting on these protests against lockdowns and vaccine mandates, with thousands of interviews, the majority of these people say they are for fighting for freedoms lost in this country, stating mandates are just the tip of the iceberg.
The flag, which is a variation of the Australian flag with a red background, was traditionally used by the merchant navy and has taken on new meaning in recent years.
The Cali last month received a letter from Singleton Council confirming a complaint had been received about the addition being made to the heritage building without development approvals. Licensee Brad Hill was given 28 days to remove the flag or respond to council, before hefty fines would be enforced.
"We along with many believe the "flag" actually enhances our heritage hotel and has also helped people to understand some of Australia's forgotten history," said Mr Hill.
"I am here for the family that fought before me and the generations to come," said one protester.

"I am here because I was up for a long fight and adventure," said another protester. "The segregation and division in the community needs to be abolished and we need the Aussie spirit unity back."

Another protester who is a grandmother said: "Fighting for our kids and grandkids.."

Mr Hill stated mainstream media reports are wrong and misleading, causing further division in this nation: "We have no idea or any right to know (pub patrons) what their medical status is. This by law has always been between doctor and patient.
"All mainstream media would have you believe differently which in itself is a disgusting invasion of an individuals privacy.
"We continue to stand for freedom of choice and against any type of discrimination and segregation which has largely been brought on by a barrage of main stream media propaganda." Mr Hill said, displaying the heritage law of the land, red ensign flag in a civil manner. Mr Hill declines to speak to mainstream media.
This journalist, also an advocate for freedom of expression, converses to many everyday Australians, unbeknownst to the reality of what is happening in Australia, who gather their main source of information from the mainstream news. They are shocked by these stories and want to know why they don't hear this side. The media rarely produces stories with all perspectives, an indirect form of censorship.
One gentleman who was looking at this journalists personal photos of the freedom protests, was shocked by the presented images of the number of protesters and police brutality at rallies. He said: "If my family (of Anzacs) knew of this, they would roll in their graves."
A NEW WAVE OF FIGHTING TYRANNY
As dawn services wrapped up, it was heading towards lunchtime. While many are sipping on the cool froth of a freshly poured beer, a group of Australian citizens who are concerned about the future of democracy and freedoms lost, are furiously working on a "thousand-hour" project to be launched today as majorslast.com
In what is known as the "world's most secretive democracy" – this writer debates how these two concepts can possibly co-exist – there are politically independent groups in Australia fighting a corporate and political war.
With the numbers of freedom protests across the nation growing beyond the numbers of hundreds-of-thousands, there are also smaller independent special project advocacy groups of professionals; intellects and activists.
One particular group interviewed by this writer, includes a professor; a lawyer, engineer, educator and a once high ranking veteran, who are behind the scenes spring boarding an online initiative providing how-to-vote cards to "put majors last", in time for the coming federal elections in May this year.
The premise of picking up one of these online, how-to-vote cards, in the guise of the pen being mightier than the sword, is their way of attempting to re-ignite that Anzac fighting spirit in Australians without baring arms…
Burgeoning groups such as this, work as "freedom co-ops." These groups are fighting for freedom of speech; freedom of expression and movement.
They may not have the billions like Mr Elon Musk to invest in platforms such as Twitter but investing their decades of high-performance skills is where they fight in a corporate and political war dominated by left-learning organisations who are squashing any dissenting views.
Working akin to intellectual property angel investors, they bring projects they collectively feel leverage freedom-leaning initiatives empowering everyday Australians to act where freedoms are lost.
Graham* (name changed for identity purposes) caught up with this writer to explain how these co-ops fighting to restore freedom in Australia work.
"It started in the latter half of 2021 when a group of freedom loving people came together who were very awake to the skulduggery of what was going on behind the scenes within the political system within Australia.
"The group was enthusiastic and meandered around a little before we really worked out what our objectives were.
Graham*, with an impressive academic; corporate and research background, explained why he personally joined the group, stated there is no leader – they work as a think-tank.
"I know that I must do something because evil triumphs when good men do nothing. Because my principal signature strength is truth I feel like my calling is to uncover the truth of what is really going on within our nation, particularly behind the scenes in the political world, that influences our way of life so significantly.
"I'm personally motivated by working alongside other high-capacity people within our freedom co-op, who all have the same objective but different skill sets that we are able to utilise towards fulfilling a common objective."
majorslast.com is one of the co-op's first projects.
Developed as an online, how-to-vote card and educational tool, founder, Mr Jeff Grimshaw, had the concept of creating a simple online method that would assist everyday Australians.
It works by answering just three simple questions. The online voting card puts the minor political parties and candidates first that align with either left-of-centre; conservative, libertarian, and freedom preferences.
The major parties; Labor, Liberals and Greens, will be preferenced last.
With federal elections taking place in Australia on May 21, one will see if political history will be made by a stronger force of independent candidates and minor parties. Right now both major parties are failing in the polls, with political rankings at an all time low.
REAL THREATS TO AUSTRALIA'S NATIONAL SECRUITY
As the sun goes down today on April 25, what possible reality many Australians are not facing, is the growing threat of a military attack on Australian shores. A threat that is very real, according to the Australian Government in response to the security pact made between The Solomon Islands and China.
This is the first time since the end of World War II, such a national security potential threat of this kind has presented towards the Australian people and the country's military bases.
Defence Minister, Peter Dutton, says Australians must prepare for war and stare down any act of aggression to ensure peace and stability in the region amid an escalating threat of Chinese influence in the Pacific and Russian President Vladimir Putins invasion of Ukraine, reported in The Australian today.
This newsletter, i3 Publications, broke the story of a looming national security threat, days ago.
Mr David Llewellyn-Smith, founding publisher of MacroBusiness and former owner of leading Asia Pacific foreign affairs journal The Diplomat, says this is "Australia's Cuban missile crisis" and chillingly warns a Chinese naval base in the Solomons would be "the effective end of our sovereignty and democracy".
This writer foresees; if divisions further in this country then the consequence of 'divide and conquer' may come to the nation's peril in the future.
Its reported China will bid to takeover Taiwan within a decade. How does Australia respond to that situation?
We may not have the privilege of 'one day a year' such as April 25, to harshly remind us of the fragility of freedom.
Though if threat is true, how is Australia and its people prepared – a recent survey showed many young Australians would rather flee the country then fight for Australia and what does that say about Australia as a nation.
What has changed in the Australian culture once revered for its capability and courage on any battle field…
When China finally bids conflict against Taiwan; will Australia respond in a US Cuban-style force or sit behind the scenes initiating sanctions on Russia over the conflict of Ukraine.
What will China tolerate and how will it respond…
What is clear, while Australians have been more interested in fighting for toilet paper in peacetime rather than democracy and freedom during the tyrannical Covid-19 response, China has been enjoying a nuclear missile spending spree.
Regardless of where we sit on the yardstick of the Covid-19 division, April 25, is a reminder of the Anzac spirit uniting us all.
What all Australians can hold on to, regardless of social, racial, gender, political or medical status; is the solidarity in the Anzac legend of courage, co-operation and bravery…
Today is the day that should remind us all, of common good as opposed to greater good, fighting for all, as we are faced with the looming threats on our national security.
This writer will leave you with this, it was the Australians who meticulously planned the perfect evacuation on Anzac Cove that was thought to be impossible. The 'drip-rifle' was designed to maintain fire from the trenches after the withdrawal of the last men, according to historical reports: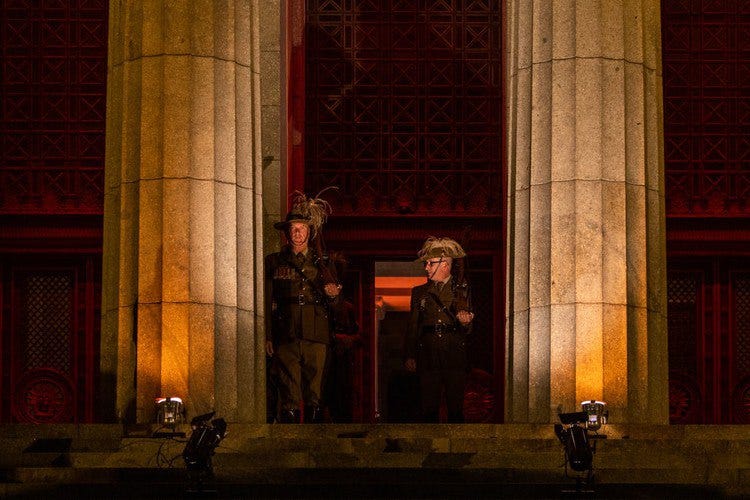 Victorian born, Lance Corporal W. C. Scurry of the 7th Battalion, AIF, soldier who invented the self-firing "drip rifle" while serving as a private in the Gallipoli campaign during the First World War I. For his part Mr Scurry was Distinguished Conduct Medal, and promoted to sergeant.
Turkish forces were ingeniously deceived in believing that the Anzac front line was still being occupied…long after thousands of men had crept down to the beaches and escaped.
Eighty thousand men were able to be evacuated with only about half a dozen casualties.
Will this fighting spirit, rising against against all odds; inspire unity amongst greatly divided of nations…The test of time will tell.
---
For news tips; submissions, inquiries or any factual corrections, email [email protected]
Inform Newsletter by i3 Publications advocates for freedom of expression and long-form journalism; reporting on the other side of the news…
Subscribe to Inform By i3 Publications Newsletter here: Subscribe now
A Newsletter Reported By A Traditionally Trained Independent Journalist Investigating The Covid-19 Response Down Under…
To see the i3 Publications website got here: https://i3publications.substack.com/
This piece was originally published 26 April, 2022.