By Greg Barns: Pearls and Irritations
This week Australian citizen Julian Assange's long running battle against extradition to the United States where he faces espionage legislation charges relating to his publication in 2010 of material that revealed war crimes by the US in Iraq and Afghanistan, is back in the courts.
The United States is appealing the January decision of Judge Vanessa Baraitser to block the extradition request. This hearing, scheduled for today and tomorrow, is being heard in the Court of Appeal. Meanwhile Assange remains where he has been since he was forced out of the Ecuadorean Embassy in 2019, the notoriously inhumane Belmarsh prison in London.
While the Court of Appeal case being heard and deliberated upon is fundamentally important it should not stop the Australian government intervening to protect this citizen from further harm, particularly given recent developments.
Since Assange's success in January the political landscape has changed. Firstly, the Trump administration has gone.
Remember it was Trump's Justice Department which went after Assange with a vengeance demonstrated by its unprecedented use of espionage laws against a journalist who is not an American citizen and who was not in the US at any time before, during or after the sensational publications, which included the chilling video "Collateral Murder" showing US military deliberately taking out civilians on the streets of Baghdad.
While the Biden administration has not withdrawn from the case it has not said much at all about the legal process.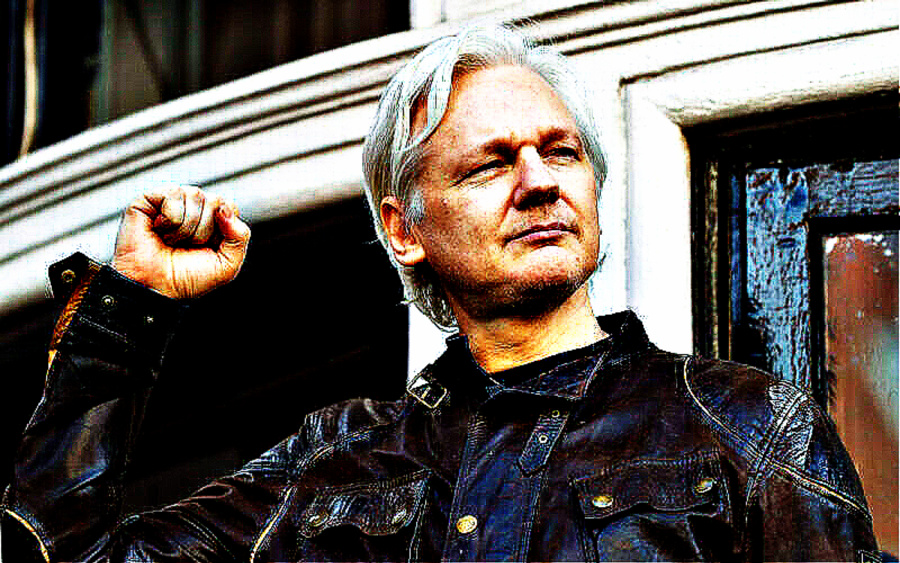 But the second and, from an Australian perspective, more damning development are the revelations by Yahoo News on September 26 that the CIA, led by the man who would become Trump's Secretary of State Mike Pompeo, wanted to kidnap and kill Assange after WikiLeaks published the agency's hacking tools known as Vault 7 In 2017.
As Yahoo News put it, "Some senior officials inside the CIA and the Trump administration even discussed killing Assange, going so far as to request 'sketches' or 'options' for how to assassinate him. Discussions over kidnapping or killing Assange occurred 'at the highest levels' of the Trump administration, said a former senior counterintelligence official. 'There seemed to be no boundaries.'"
Foreign Minister Marise Payne has been overly cautious on the Assange case to put it mildly.
In raising the case with her US and UK counterparts she has used the standard line which every Australian foreign minister uses when talking with a counterpart whose nation has an Australian citizen banged up.
A spokesperson for the Department of Foreign Affairs and Trade told Guardian Australia that "Minister Payne has raised the situation of Mr Assange with her US and UK counterparts, most recently with US Secretary of State [Antony] Blinken on 15 September", and that the Australian government conveyed its "expectations that Mr Assange is entitled to due process, humane and fair treatment, access to proper medical and other care, and access to his legal team". Straight out of the diplomatic phrases handbook.
But this is no ordinary case and never has been.
Assange has heavyweight supporters behind him, including Amnesty International, an eminent and ever growing list of other human rights, press freedom and other rights organisations, and individuals such as the UN Rapporteur on Torture Nils Melzer and former New Zealand Prime Minister Helen Clark.
In this country Bob Carr, the man who was foreign minister when Assange first published the materials which has the US so incensed, is campaigning for his release, and highly respected journalists like former ABC journalist Kerry O'Brien and foreign correspondent Tony Walker think Australia must stand for press freedom by ensuring Assange is released from the clutches of Washington.
The appeal this week is not a hearing de novo but is limited to specific grounds. In other words the Court of Appeal will hear argument about whether or not Baraitser made any errors in her application of the law, including the admission of expert of evidence concerning Assange's mental health. Generally speaking appeal courts take some time to consider arguments and deliver a judgement.
But while the legal process continues this should not for a moment be used as an excuse by Payne, and for that matter Prime Minister Scott Morrison, who will be meeting his US and UK counterparts in Glasgow at the climate summit in a few days' time, to sit on their hands.
The long and short of it is this: the Australian government has knowledge that one of its citizens has been the subject of a plan by the US government to murder him. If you add that to the fact that Australia opposes the death penalty and Assange faces an effective death penalty of 175 years if convicted after as trial in the US, then the moral obligation on Canberra to demand an end to the pursuit of Assange is self-evidently obvious.
Surely removing an Australian citizen from serious harm and even death by an ally would be a commendable use of the fresh leverage Australia has with the US and UK as part of the AUKUS defence and security pact.
---
Greg Barns SC has been an adviser to the Australian Assange Campaign since 2013. His penetrating critiques of Australia's increasingly complex security state and the rapid increase in surveillance and control of the population are widely published.