What will it profit a man if he gains the whole world, yet forfeits his soul?
The most truly bizarre of all the many bizarre aspects of Bill Gates visit to Australia was the confession that the vaccines he promoted, and which the Australian government and countless health bureaucrats enthusiastically championed, don't work.
"Antibodies, antivirals, we think we can also have very early in an epidemic a thing you can inhale that will mean you can't be infected. An inhale blocker. We also need to fix the three problems of vaccines. The current vaccines are not infection blocking, they're not broad, so new variants come up you lose protection, and they have very short duration."

bill gates
Bill Gates was the puppet master for Australia's entire Covid response. He funded the World Health Organisation, which all Australians were taught to look to as the international authority. He funded the Peter Doherty Institute, which the government relied on for its advice on masking, social distancing, lockdowns and vaccination rates.
He has given funds to Guardian Australia, which championed vaccines, and also funded the academic journal The Conversation, where academic after academic extolled the vaccinations, and early on in the "pandemic", after speaking to former Prime Minster Scott Morrison, his long time loyalist Jane Halton was appointed.
As the Australian Medical Professional Society put it: "Despite the total lack of scientific evidence supporting vaccine mandates, Bill Gates, the world's biggest vaccine investor, was fortunate to be able to install his longstanding loyal lieutenant and personally appointed CEPI Chairperson, Jane Halton, to personally spearhead Australia's vaccine policy."
CEPI was launched at the 2017 World Economic Forum and kicked off with $460 million of seed funding from the Bill and Melinda Gates Foundation.
That's just the tip of the iceberg. He also, by the way, had donated more than a million dollars to the Lowy Institute, where he made the above widely reported statements on the vaccine's poor efficacy.
As he sat in the most expensive seats in the house at The Australian Open, a summer tennis sporting ritual in the Land Down Under, located in Melbourne, the world's most locked down city, Bill Gates showed not a shred of sympathy for the thousands of nurses, teachers, doctors, police and other professionals who lost their jobs for refusing to take his vaccines.
Nor for the hundreds of thousands who had marched through the streets of Melbourne, the millions who had endured curfews, state border closures and some of the most extreme lockdowns seen anywhere in the world. Or the thousands of business owners who had seen their life's dreams destroyed.
That Gates had during the course of the pandemic become one of the world's most reviled and derided individuals didn't stop him from being welcomed with open arms by Australian Prime Minister Anthony Albanese, but let's not go there. That story's already received ample coverage.
Even during the days Gates was in Australia, travelling around in one of his $70 million private jets, scandal after scandal enveloped the rollout of the vaccines worldwide. There are now so many scandals enveloping the roll out of the Covid-19 vaccines it is difficult to keep track.
Every Western country which implemented lockdowns and mass vaccination campaigns is experiencing historically high excess death rates, ranging up to 20 percent. In Australia they had been hovering around 17% prior to Gates arrival direct from the annual gathering of billionaires for the World Economic Forum in Davos, Switzerland.
During Gates' stay in Australia came the news that Thailand was likely to become the first country on Earth to cancel its Pfizer contracts and demand their money back, after a Thai Princess went into a coma following her second shot.
The eldest child of Thailand's King Maha Vajiralongkorn, Princess Bajrakitiyabha, 44, went into a coma after what is believed to have been her second Covid vaccine shot.
As a consequence one of the world's most revered disease experts and a formidable critic of medical and corporate misconduct during the Covid era, German Professor Sucharit Bhakdi, the Thai born son of the former Thai Ambassador to Switzerland, was invited to speak to some of the country's highest authorities.
Gates' visit also coincided with the release of the Daily Clout's forensic exploration of the Pfizer documents, only released on court order after Pfizer tried to conceal them for 75 years. The coverage has been excoriating. With Twitter now in the hands of Elon Musk and transformed into a free speech platform, there is no longer anywhere to hide and the explosive revelations of government and intelligence agency manipulation of the Covid narrative is now out in the public square.
The book has become an instant best seller on Amazon.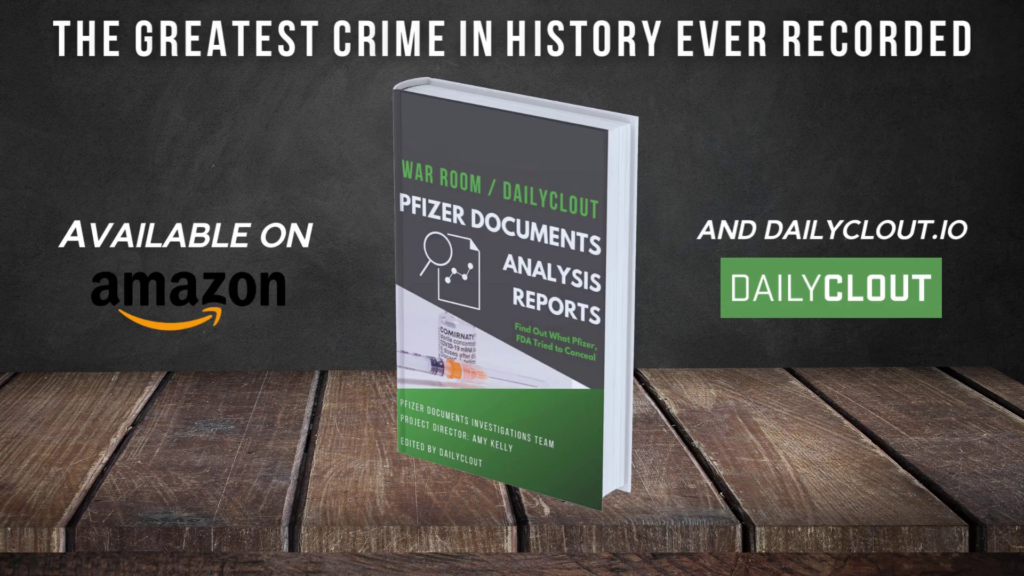 ---
There was widespread jubilation both in Australia and around the world when "Novax" Djokovic won the Australian Open. His victory, celebrated by freedom fighters everywhere, was widely seen as a victory against globalism and Big Pharma. The memes flew.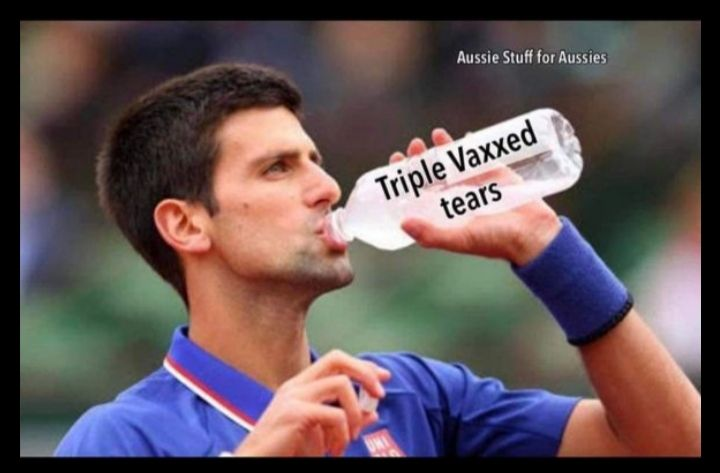 Paul Collits, one of the most cogent and acerbic of Australian commenters throughout the Covid era, wrote on his Substack page: "They say that revenge is a dish best served cold. 
"And so it came to pass at Melbourne Park tennis centre.  A mere twelve months ago, Novak Djokovic was deported from Australia by a Liberal Minister and a Liberal Government.  
"The political low-lifes who arranged Djokovic's short yet ignominious imprisonment and deportation are called Scott Morrison and Alex Hawke.  They are alleged to be conservatives. In reality, they are unprincipled political spivs, now mercifully out of office but, sadly, still collecting their parliamentary salaries. Salaries that are paid by us.
"Djokovic seemed particularly emotional and very pleased with this particular win.  The scenes after the match of the winner celebrating with his family and close supporters up in the stands were memorable.  Indeed, they were life affirming.  This wasn't just a tennis match.  It was justice.  This is a victory for a whole movement."
"It was singularly appropriate that one Bill Gates was there in Melbourne to witness it.  Photos of Gates show him looking especially forlorn, bordering on miserable. Gates is the Sultan of Vaccines.  The Djoker is the prince of Covid dissidents.  One wants to vaccinate the world, possibly for quite sinister reasons.  The other is a champion of informed medical consent and the right to medical privacy.  And freedom of movement, to boot.  A little schadenfreude is surely permissible in relation to poor, sad old Bill."
Spectator Australia, which has run a string of excoriating articles on the vaccines over the past year, also joined in the party. Alexandra Marshall wrote:
It was embarrassing for the many Australians involved, and those who joined the goon squad cheering his deportation the year before, to remember how Australia treated the World Number One Novak Djokovic.
"If anyone needs proof that the vaccine requirements were nothing but political nonsense, look no further than this year's announcement that Covid positive players were allowed on court. 'The Science' tells us that Djokovic never posed a health risk to the Australian Open – he posed a political risk to both the local Victorian Labor government and the Federal Liberal government."
Marshall suggests that former Prime Minister Scott Morrison owes the unvaccinated an apology. A grovelling one. On January 6, 2022, Morrison tweeted: "Mr Djokovic's visa has been cancelled. Rules are rules, especially when it comes to our borders. No one is above these rules. Our strong border policies have been critical to Australia having one of the lowest death rates in the world from Covid, we are continuing to be vigilant."
Marshall asks: "How does that work, Mr Morrison, when vaccines have no impact on transmission? Any comments? Updates? Want to discuss the largest rise in unexplained deaths in Australian history? No?"
---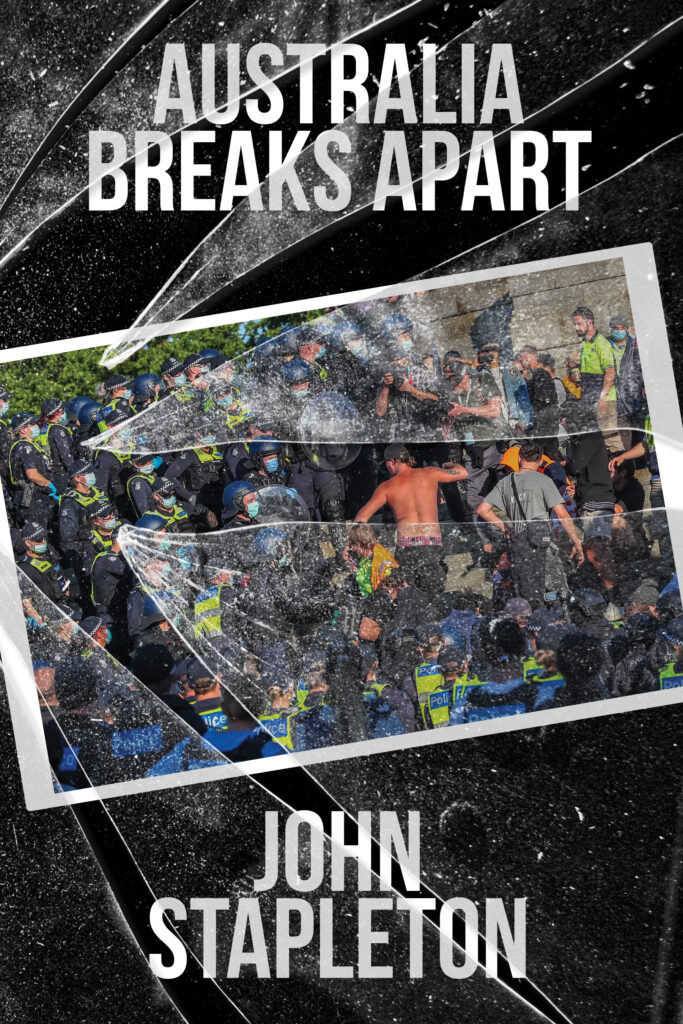 The man who had engineered Australia's entire Covid response through his takeover of global health, including populating the World Health Organisation with his loyal lieutenants, did more than raise eyebrows as he watched the Australian Open. Australia's authoritarian derangement during the Covid era made international headlines.
Who could forget the scenes in Melbourne which had ricocheted around the world; with Gates the puppet master behind it all.
Here's one snippet from the upcoming book Australia Breaks Apart.
The poster for the fifth bimonthly Worldwide Rally for Freedom, kangaroos hopping across an outback landscape coloured by a setting sun, a scene familiar to any Australian who had ventured beyond the nation's cities, declared: "Together, We Are Free".
On that Saturday, 20 November, 2021, there were protests in Australia's capitals, from Darwin to Perth to Sydney, as well as regional centres including Mt Gambier, Warrnambool and Bundaberg, Queensland's famous home of the potent Bundaberg rum.
As had become characteristic of these rolling demonstrations, there were impromptu concerts displaying a quite remarkable showcase of talent and high spirits amongst younger generations of Australians.
After one spirited performance the singers lead the entire crowd in fist pumping the air and chanting: "We Will Rise. We Will Rise."
One of the organisers declared: "We have been assaulted by police many times. Let us live our lives as we please. What a crowd! Freedom! As we know the police have acted disgracefully during the lockdowns which never needed to happen."
Another speaker, Matthew Lawson, said: "I am so proud of the people of Victoria. We have gone through the harshest lockdowns in the world. We have been criminalised. We have been hurt. Mental health is going through the roof. People are hurting everywhere. Yet we are here in numbers, in hope and in love. And we are never going to be silenced. The human spirit can push through anything. The government is afraid. They control us through division, fear and despair. But now we are no longer afraid. We are courageous. We are strong. We are united. If the government will not stand for us we will stand for ourselves. The power has always been with the people. Now we are awake."
---
Becoming a figure of fun does more reputational damage than any number of hit pieces. Witness British comedian Russell Brand's very funny mimicking of World Economic Forum boss Klaus Schwab's mannerisms. Now it is almost impossible to look at Schwab him without thinking of him as a James Bond villain, a caricature of a caricature.
Brand's completely on the ball take on the malfeasance of the Covid era has seen his subscribers soar to over six million on YouTube alone during the Covid era. He didn't miss this one either.
---
According to Our World Data, ironically also funded by the Bill and Melinda Gates Foundation, as at the end of January, 2023:
69.4% of the world population has received at least one dose of a COVID-19 vaccine.
13.26 billion doses have been administered globally, and 1.19 million are now administered each day.
26.4% of people in low-income countries have received at least one dose.
---