REIGNITE DEMOCRACY AUSTRALIA
The single most determined and well coordinated activist group to emerge from the Covid era.
The group provided the following footage.
---
TOTT NEWS AUSTRALIA
In their piece Australians say 'no more': Mass freedom protests staged in capital cities, TOTT, a group which has repeatedly warned of the authoritarian derangement involved in the Covid era, reported: "Anti-lockdown protesters have marched in major Australian cities, calling for an end to ongoing restrictions, media deception and anti-democratic government control. Powerful scenes show crowds stretching as far as the eye can see, with an estimated 40,000 people turning out in Sydney and Melbourne alone for peaceful rallies."
Editors Note: As often happens, crowd numbers are notoriously difficult to calculate and estimates vary wildly between media outlets, activists and police.
The group provided the following 1.23 hours of rolling coverage:
---
ABC: AUSTRALIAN BROADCASTING CORPORATION
The national broadcaster provided dramatic imagery and footage from around the country, with a small sampling below.
There were chaotic street scenes in Sydney, with 57 people reported to have been charged, with a further 90 infringement notices.
NSW Police set up strike force to find other anti-lockdown protesters.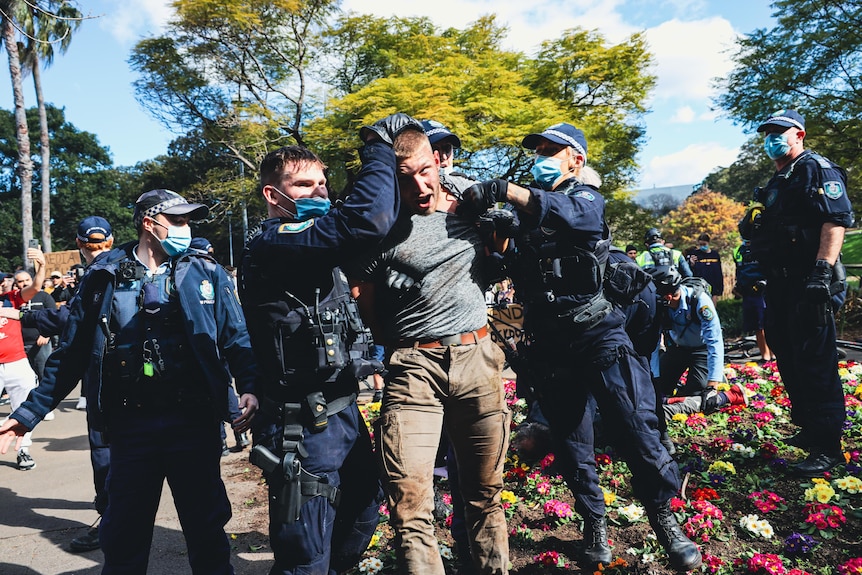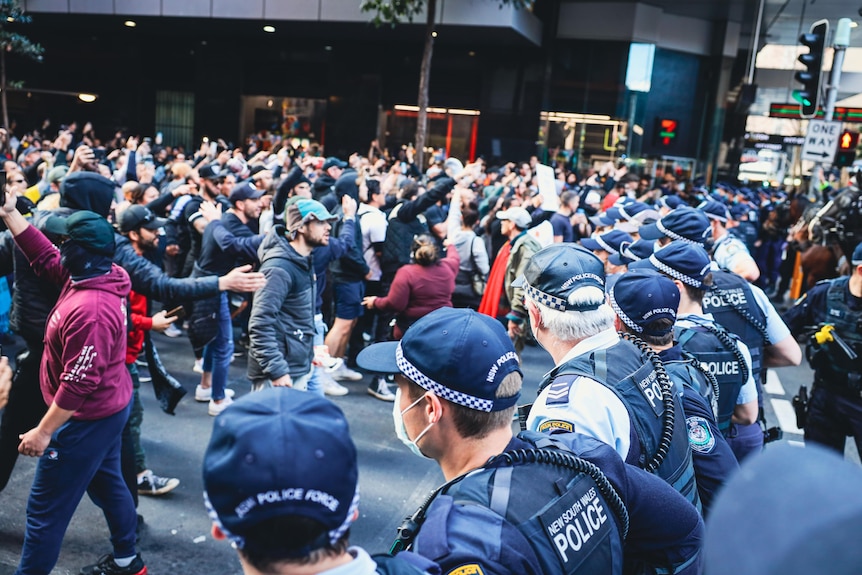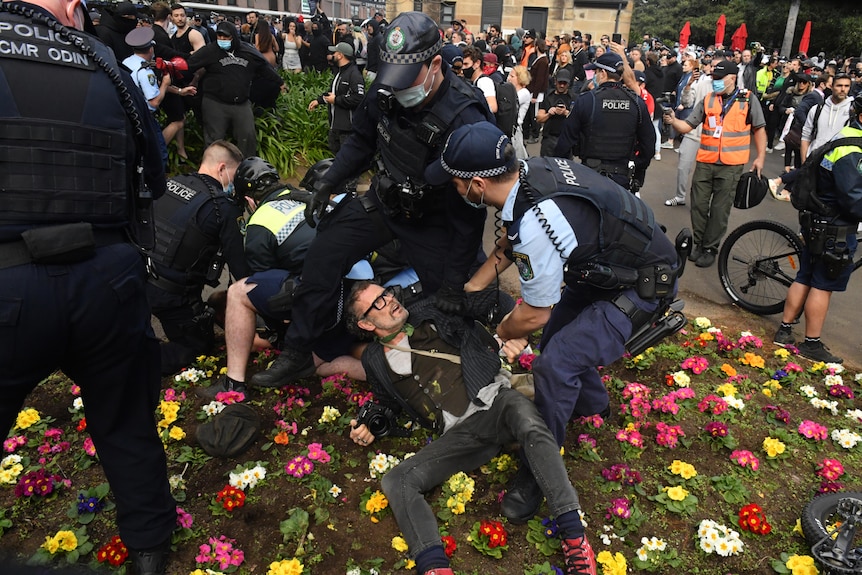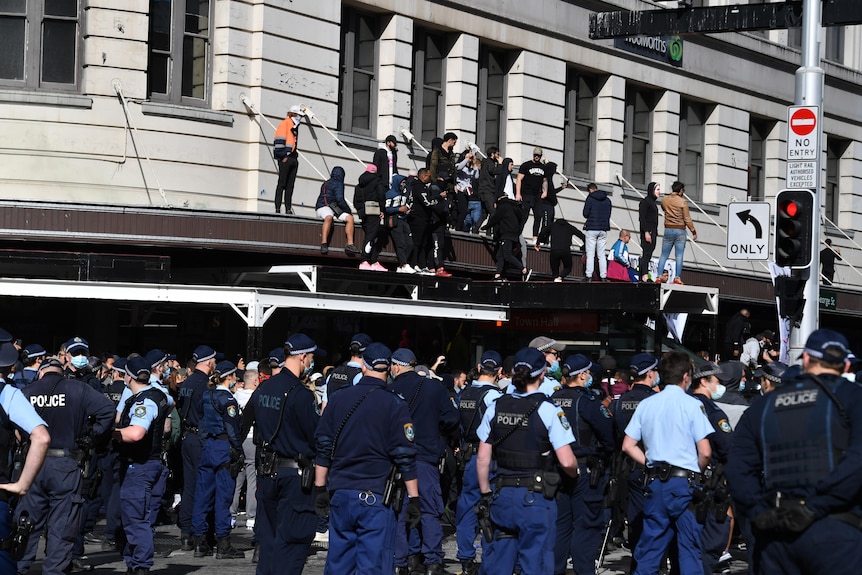 ---
Long time journalist with The Australian Fred Pawle provided this image to his Facebook feed and observed: "This is the dramatic moment when a cop was separated from his fellow officers at the freedom march in Sydney today, and for a few intense moments looked likely to be bashed by the mob. Pretty heavy."
---
SKY NEWS
Sky News commentators have been highly critical of the government's Covid strategies, including lockdowns, curfews, and some of the heaviest policing operations in the nation's history and most draconian enforcement seen anywhere in the world.
Here is a sampling of their coverage:
---
REBEL NEWS
---
GLOBAL NEWS
---
SEVEN NEWS
CHANNEL NINE
---
REUTERS
Here are a couple of screenshots: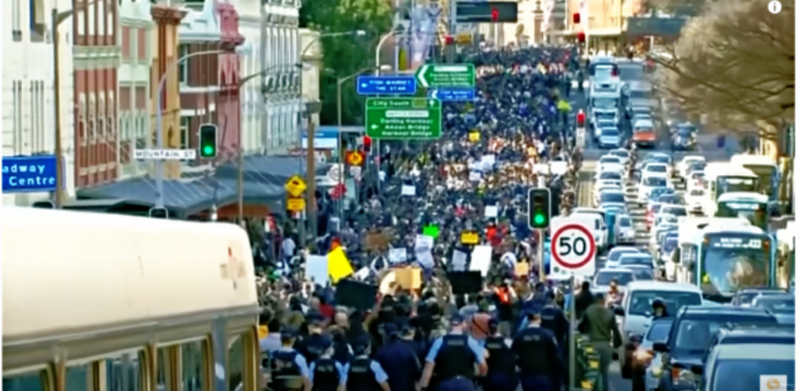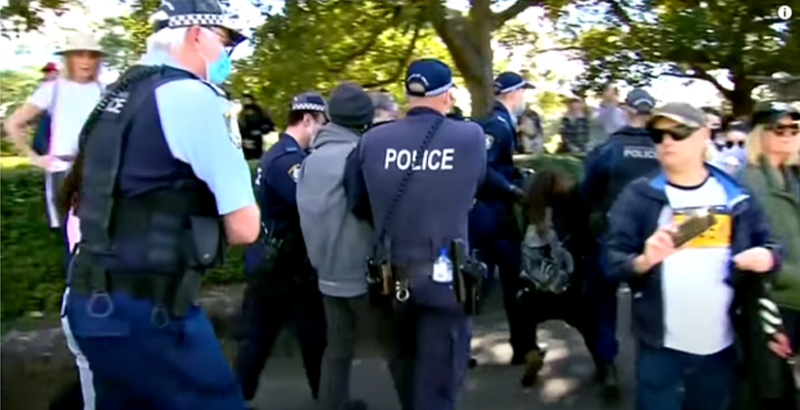 ---
DAILY MAIL
A police officer who was splattered in ink by anti-lockdown protesters in Sydney has won the respect of the crowd by shaking hands with demonstrators.
Thousands of protesters swarmed the streets in Sydney, Melbourne and Brisbane on Saturday to protest against the economic and social effects of Australia's continual lockdowns.
During the chaos, which saw 3,500 attendees march from Victoria Park to Town Hall in Sydney's CBD, one protester threw dark ink over a police officer.