Make no mistake. Premier of NSW Gladys Berejiklian, with every passing day, was becoming an ever more deeply despised and deeply divisive figure. Until one glorious day, the extremely powerful Independent Commission Against Corruption brought her down.
And a glorious joy spreads through the millions of households enduring some of the worst lockdowns in the world, characterised by grotesque levels of over policing, helicopters overhead and military on the streets.
With each day's mandatory press conference providing a full case study of state incompetence, the situation, the arrests, the hundreds of daily fines, the increasingly angry population, just grew worse. And worse. And worse.
If anyone wanted to see where her policies were leading, they only had to look across the southern border to Victoria, where the sight of police pepper spraying defenceless citizens and bashing anyone who dares to protest has become the new Covid Normal.
The latest insanity perpetrated by the grubs of Macquarie Street, the location of the NSW Parliament in Sydney's central CBD, is the "no jab no job" mandates creating havoc across multiple industries. Like the general public, many government workers are suspicious of the high level of bullying and intimidation involved in enforcing vaccinations.
The work to introduce so-called vaccine passports to enable citizens to enter restaurants or public buildings was well under way.
The wild demonstrations of the now shut down $22 billion construction industry in Victoria set the chattering classes atwitter, with claims the thousands of demonstrators were just Neo-Nazis, "far right" activists or worst of all, "angry men".
Which is why contrast with the "Reclaim the Line" couldn't have been more stark, and demonstrated just how offside Australia's governments state and federal governments have become with the people they purport to serve.
Australian workers across multiple sectors held gatherings across the country on Friday to speak up against state mandated vaccines
Participants were encouraged to wear white shirts with the words #ReclaimTheLine on the front and their years of professional service on the back.
The initiative was spearheaded by National Education United, a recently-formed alliance comprising more than 18,000 members from multiple industries, according to the group. 
Workers across multiple industries, including police, paramedics, firefighters, nurses, health care workers, construction workers, miners, airline staff, truck drivers, and teacher, were welcomed.
"On October 1 we reclaim the line that was taken from us. Freedom, liberty, and our right to choose if we take the vaccine," the NEU announced on Sept. 25. "This will be our defining moment in history. This is the line in the sand. The hill we stand on. We will do this in silence and wearing white. We will come peacefully and respectfully. We will show the authorities we are united as one country and that they have no need to be violent with us."
---
The protest at Shellharbour, a peaceful family oriented seaside village two hours south of Sydney, was typical.
At its peak, around 90 people gathered along the foreshore dressed in white. There was no loud chants, no shouted slogans, no speeches, nothing but a quiet assembly, dominated by school teachers and health care workers, all of whom face the sack if they continue with their refusal to have "the jab".
Without a visible police presence, there was no confrontation of any kind. The protestors gathered peacefully and departed peacefully.
One woman, Genevieve McKenzie, said she had just been stood down.
"I work in a hospital setting," she said. "Due to the government mandate I have been stood down without pay as of today. I thought I had freedom of choice."
Ms McKenzie cannot return to work unless she has the mandated vaccine.
"The necessity of an income is a concern, however the last two months have been riddled with stress and anxiety, knowing how this was going to be handled."
One teacher with 14 years of service said: "You have to stand for your truth."
She relayed a story of a nurse who died after the "second jab".
Whether apocryphal or not, these stories now abound, against a backdrop of intense official propaganda and a haphazard, lacklustre government which has lost control of the narrative.
Another teacher, with 17 years experience, said: "Stop this madness!! If I say any more it will be profanities!!"
Another, with 40 years experience, said: "We are here to stand up for our basic human rights. We want body autonomy. We want to make choices about what we put in our body.
"And we want to continue the work we love without being coerced into taking an untested, and more than likely dangerous inoculation."
Another teacher, who brought her two children to the protest and now faces the sack, said the best thing the government had one was confine her to her home during the lockdowns, because it had allowed her time to do research on the internet, and Covid had woken her up.
"Have you woken up?" she asked. "We want to keep democracy open in our country. We want to protect our children. My body my choice. I have to provide for my children. To feed and house them I have to have a job. I resent being forced to make that choice, to have an experimental jab which is not even fully approved. It is terrible."
---
Other protests were held around the country.
Here are a few images courtesy of The Epoch Times:
SYDNEY

MELBOURNE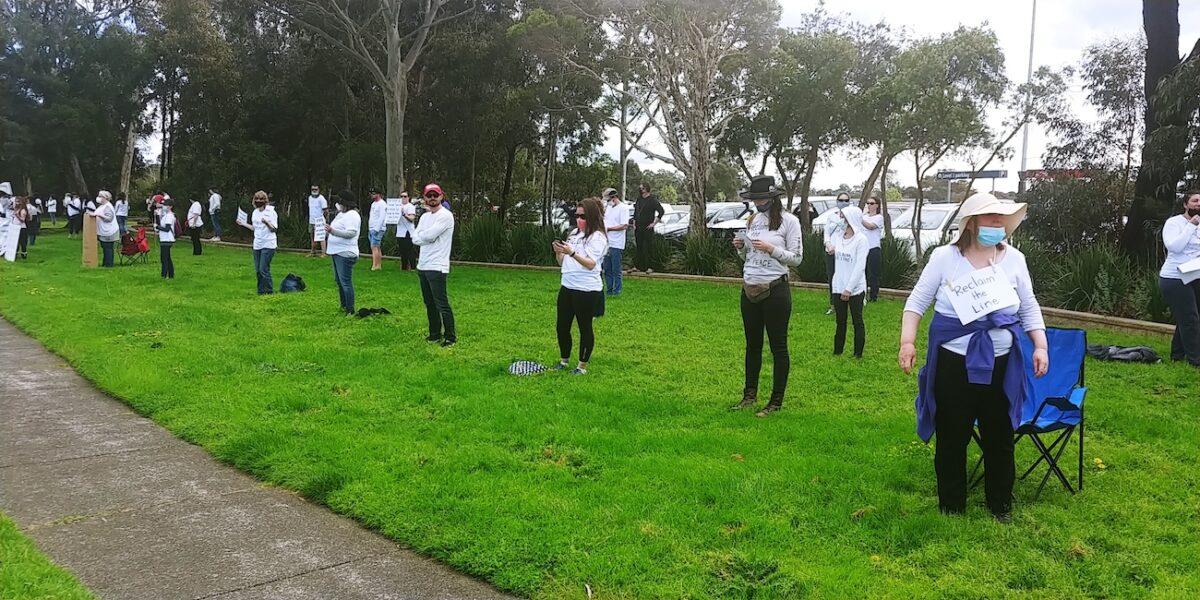 BRISBANE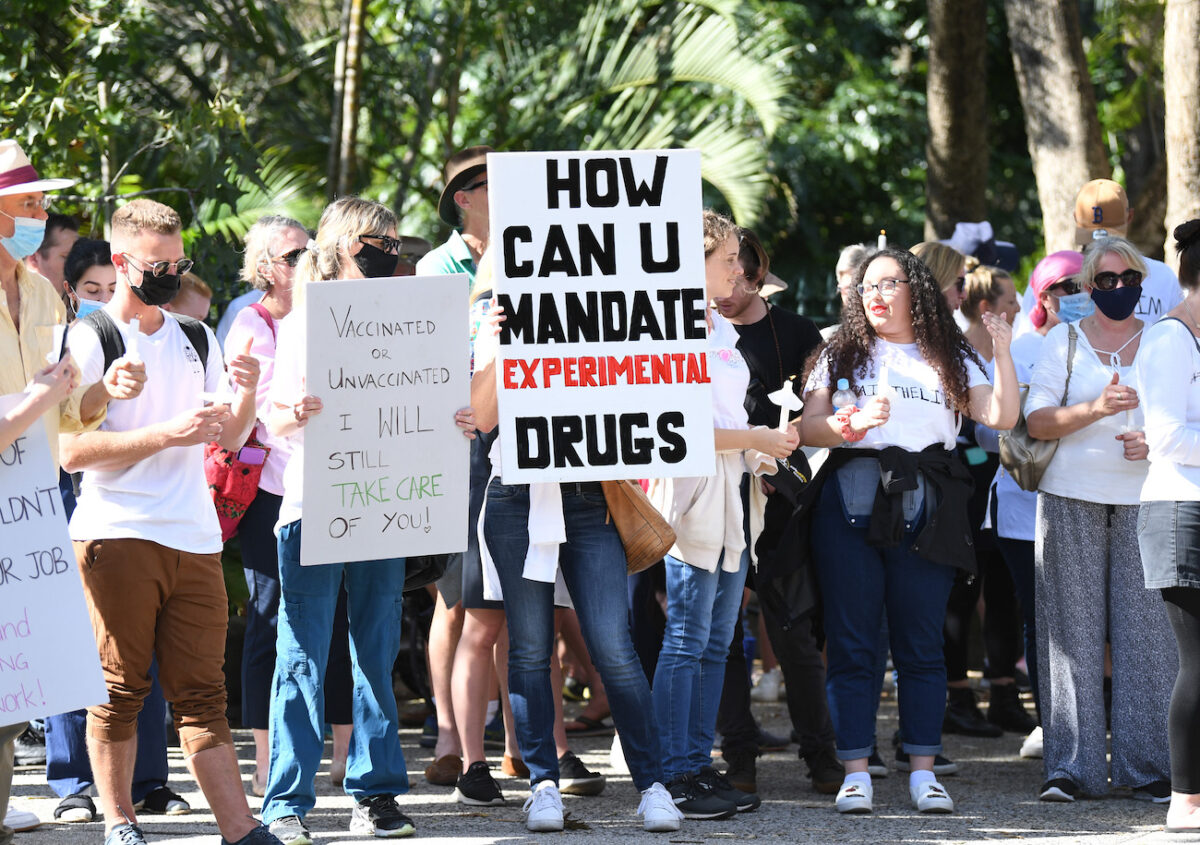 PERTH