Rebekah Barnett: Dystopian Down Under.
A contentious new bill to crack down on misinformation and disinformation has drawn criticism for its potential to restrict free expression and political dissent. Notably, the government will be exempt from the proposed laws. Censorship will be an inevitable outcome, but will likely exacerbate the problem it is intended to solve.
MUST READ, MUST SHARE. My new article for Umbrella News,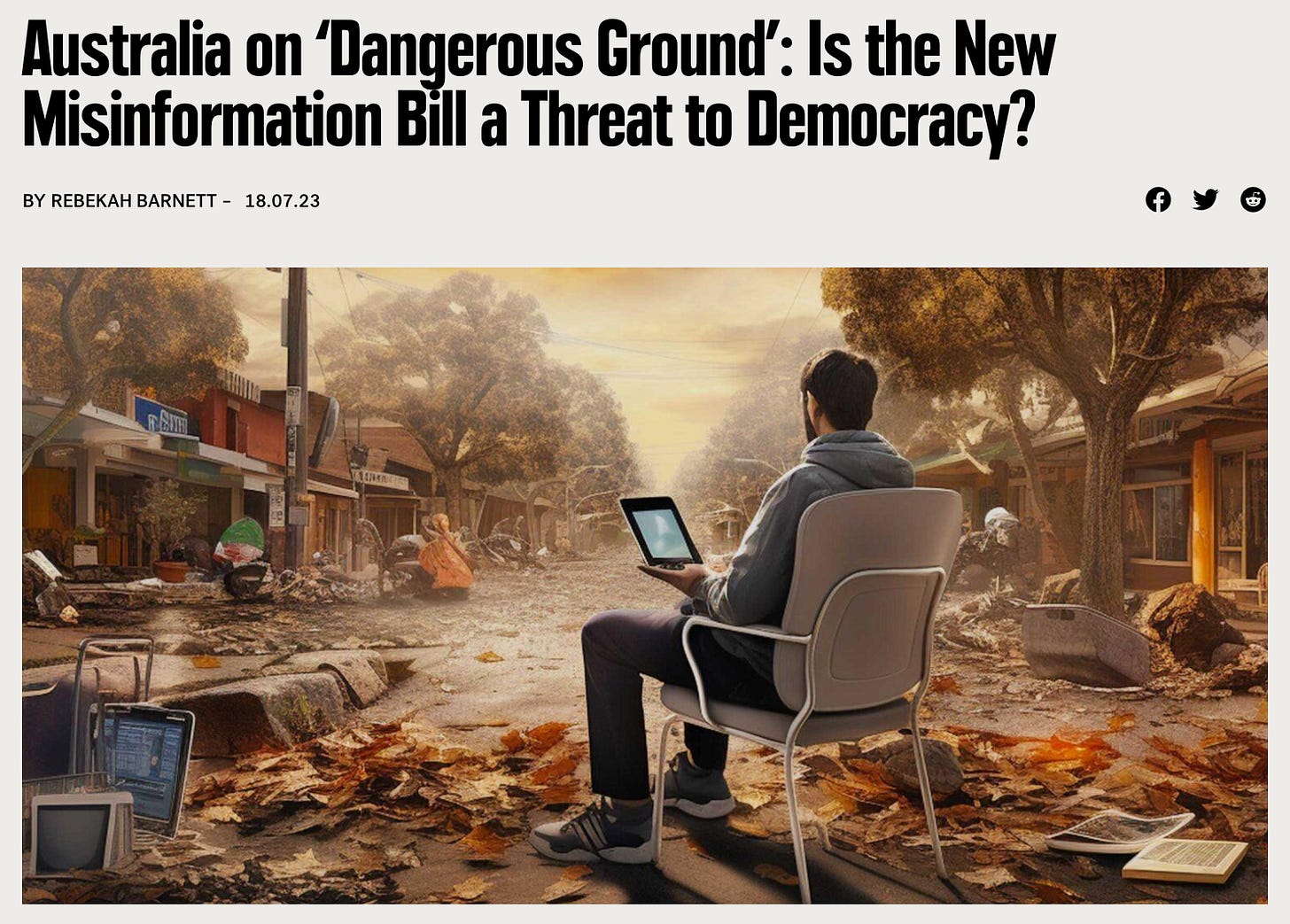 'Truth' established by bureaucratic conga line
The government's mis- and disinformation bill greatly concerns Liberal Senator Alex Antic, who has played an instrumental role in exposing the government's underhanded tactics to censor online speech. He says, "This is the expansion of the Censorship Industrial Complex in Australia. I think we're on dangerous ground."
Senator Antic says a "bureaucratic conga line" is creating 'truth' standards which, at the end of the line, are enforced by digital platforms. Anything that contradicts the official bureaucratic position is defined as 'misinformation.'
This is exactly what we saw play out when John Ruddick MP's maiden speech to NSW Parliament was censored on YouTube for breaching the platform's medical misinformation policy.
Censorship fuels alt-media activity
I am delighted to introduce to readers my previous Honours supervisor, Dr Tauel Harper. Dr Harper's areas of expertise include communication theory, big data, and misinformation. He is a deeply rational person, and on this bill he offers a unique perspective I have not heard anyone bring to this discussion previously.
Dr Harper's research shows that censorship can have the opposite to intended effect, pushing users out of mainstream shared spaces and onto the fringes of debate, where they are more likely to become entrenched in their beliefs. For example, during Covid, Dr Harper's research team found that, "attempts to censor vaccine sceptical messages and groups correlated with a significant increase in people subscribing to vaccine sceptical sites and news services."
This is one of numerous reasons Dr Harper suggests that transparent debate is preferable to censorship.
Political expression may be stifled
Dr Harper raises a word of warning about the potential for the ACMA bill, if enacted, to stifle political expression. Disruption of public order is listed as one of the harms to be mitigated under the proposed laws.
A spokesperson for the Department under which ACMA operates reassured me that the proposed powers are not intended to stop protests or inhibit legitimate expression. Yet, the erosion of protest rights during lockdowns, and the policing of political opinion under the guise of public health management in recent years suggest that in practice, such powers are open to abuse (and that Australian authorities are inclined to abuse them).
Read, share and have your say
I don't want to be dramatic, but I'm going to be dramatic.
The headline on this article asks a question – is this bill a threat to democracy?
But I don't consider this to be up for question. I believe that the article makes a strong case that the new misinformation bill is a threat to democracy. This bill has the potential, when taken in the context of the Australian Censorship Industrial Complex as a whole (another topic I'm writing on in the background) to significantly transform the nature of not just online communications, but offline as well. I believe this is an extremely important issue for the future of our country. Please read and share my new article for Umbrella News, initiate discussions, and make your voice heard.
ACMA is seeking feedback on its proposed Combatting Misinformation and Disinformation Bill. Make a submission by 6 August to have your say.
Dystopian Down Under is a reader-supported publication. To receive new posts and support my work, consider becoming a free or paid subscriber.
Upgrade to paid
If subscribing is too big a commitment, you can make a one-off contribution to DDU via my Kofi account. Thanks!
Bonus content
If you hadn't already clocked, the headline is intended as a subversive mashup of both the hysterical MSM shrieking over the threat of online misinformation, and the infamous 'fake news is extremely dangerous to our democracy' short that did the rounds a couple of years ago.
When I was looking for the short, I came upon some background info. The newscasters are all reading a 'must-run' segment handed down by Sinclair Broadcasting Group, one of the massive media conglomerates in the US and one that leans right, politically. This highlights that the centralisation of news production and the emergence of a censorship industrial complex are not partisan issues.
---

---