Michael Sainsbury: Michael West Media
Billionaire mining scion Gina Rinehart, gas fracker Santos, Australia's number one corporate welfare recipient Qantas, as well as beleaguered taxpayers, bankrolled Rupert and Lachlan Murdoch's annual Bush Summit. Starting last Friday in Tamworth, a national News Corp roadshow to spruik Murdoch business partners.
Headlining the annual event that began in 2019 and was previously NSW only, was a laundry list of Australia's political leaders led by Prime Minister Anthony Albanese – who delivered the keynote speech in Tamworth. The Premiers of NSW, Queensland and South Australia, along with a conga line of Federal and State ministers, are all paying homage to the company that dominates the Australian media landscape.
They selflessly turned the other cheek at the very papers who campaign against Labor in every state and federal election, in exchange for rare positive press coverage that is unlikely to last longer than the week-long roadshow.
News Corp boasts that its stories are read or watched by 18.2 million Australians every day. This dominance has seen a campaign for a Royal Commission into the company, an idea backed by former prime ministers Kevin Rudd and Malcolm Turnbull. And the blanket coverage has already begun on Sky News and News' national and metropolitan dailies The Daily Telegraph (NSW), Herald Sun (VIC), The Courier-Mail (QLD), The Advertiser (SA), The Mercury (TAS), The Australian, The Weekly Times and AgJournal – and Albo is already in the good books.
Here's a sample from The Daily Telegraph's Clare Armstrong: "Delivering a better deal for regional Australia is the only way to improve the nation, Anthony Albanese has warned ahead of a major summit to ­improve economies and livelihoods in the bush.
"The summit will bring ­together the nation's most powerful decision makers and thought leaders to discuss the biggest issues facing regional and rural Australia and propose practical solutions."
Some of the stories could well be written by artificial intelligence (AI). News Corp boss Michael Miller revealed to a media summit in Taiwan two weeks ago that the company had a team of four staff in Australia called "Data Local" who generate 3000 articles a week using generative AI to cover daily topics such as local weather, fuel prices, and traffic conditions. This has allowed News to whittle the number of journalists on its local digital news sites to just one.
After Tamworth, the summit will roll into Perth, Port Lincoln, Hobart, Wodonga and Rockhampton. But the Northern Territory has missed out.
---
Gina Rinehart bankrolling
Rinehart's two companies, Hancock Prospecting and Hancock Agriculture, are the "National Presenting Partners". The second tier list also includes include inflation profiteers Woolworths, takeover target Suncorp and electricity transmission giant Transgrid; new kid on the block, renewable group Squadron Energy, as well agribusiness and real estate giant Elders and Bayer, one of the world's top three Big Pharma, round out the corporates – as well as the Labor governments of Queensland and South Australia.
Australia's leading fracker Santos is preparing to drill close to 850 gas wells in the spectacular Pilliga forest, on Gomeroi land north west of Tamworth. The Gomeroi people have completely rejected this proposal and have stood strong for years against what they say is "Santos' destructive Narrabri Gas project."
In Coonabarabran, 120km from Narrabri and 182km from Tamworth, another roadshow – of union led protestors – will begin this weekend protesting one of the Summit's major sponsors, Santos. The Maritime Union of Australia, NSW Nurses and Midwives' Association, United Workers Union, the Electrical Trades Union NSW & ACT, Independent Education Union, National Tertiary Education, and Union New South Wales have all joined forces to make a stand against Santos. The mobile protest will stop in the Pilliga before descending on the Santos office in Narrabri.
The Guardian wrote this week that the Narrabri project, signed off by the Perrottet government, engaged Big Four consulting firm EY for its 'Future of Gas Statement". The statement was used by the government to announce it was "backing the Narrabri gas project" in October 2020. EY was also playing the other side of the fence, consulting to Santos – but failed to tell the government as part of its successful tender.
While the main project has been approved, there is another necessary project still awaiting approval in the shape of a "lateral" pipeline from Narrabri to the coast, the Hunter pipeline. This has seen Santos withhold its final investment decision.
"The Federal Environment Minister Tanya Plibersek and the NSW state government can both stop this project by not approving that pipeline," MUA spokesperson Shan Reside told Michael West Media.
Santos is also eyeing fracking in the Liverpool Plains food basket, south of Tamworth. The Minns government has recently approved mines at Blayney, near Orange and Mudgee – both of which are in prime agricultural land and threaten to poison local land and waterways with arsenic and lead, respectively. They are both awaiting final sign off by Environment Minister Tanya Plibersek.
---
Who's who in fossil zoo
Victorian Premier Dan Andrews – arguably the biggest national political hate figure for News Corp media outlets – is steering clear of the Tamworth event, yet he is happy for his deputy Jacinta Allan to appear.
Other government leaders attending include NSW Premier Chris Minns, Queensland Premier Annastacia Palaszczuk, South Australia Premier Peter Malinauskas, Minister for the Environment and Water Tanya Plibersek, Minister for Resources and Northern Australia Madeleine King. The Federal Opposition has scored three spots for Senator Anne Ruston, Senator Bridget McKenzie and Senator Matt Canavan, as well as the curious participation of the independent Member for Indi, Dr Helen Haines.
Former PM and Ambassador to the USA, Kevin Rudd, is in Australia at present for the unveiling of his official portrait in parliament after attending the annual Australia-US Defence and Foreign Affairs minister's war love-in. One has to wonder what he thinks of the stream of Labor leaders hand-in-glove with the Murdochs.
Corporate bosses who will appear include Rinehart herself, who will speak at the Perth event, Woolworths Chief Executive Officer Brad Banducci, Australian Energy Council Chief Executive Sarah McNamara, cricket heroes Adam Gilchrist and Josh Hazelwood, and Basketball Australia's Head of Women in Basketball, Lauren Jackson.
The Summit has also given News Corp Australasia boss Michael Miller a chance to air his own log cabin origins story.
"As someone who grew up in the bush, I have been proud to see the Bush Summit go from strength to strength, and its impact grow, year after year," Miller said. "The fact that federal, state and local members from all sides of politics have invested the time to participate each year is testament to this Summit's reputation and the importance we all recognise and support regional Australia."
Perhaps that's what has struck such a chord with the PM?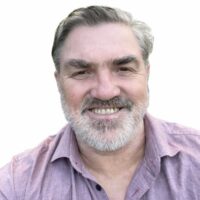 Michael Sainsbury is a former China correspondent who has lived and worked across North, Southeast and South Asia for 11 years. Now based in regional Australia, he has more than 25 years' experience writing about business, politics and human rights in Australia and the Indo-Pacific. He has worked for News Corp, Fairfax, Nikkei and a range of independent media outlets and has won multiple awards in Australia and Asia for his reporting. He is a fierce believer in the importance of independent media.
---