By Jeremy Aitken
In 2020 Sean O'Leary was living in a fog of painkillers trying to navigate life with a new prosthetic leg. The 170 cm father of two sons weighed 127 kilograms and "was in a dark place" after a small cut to his foot lead to a six-year battle with pain, depression, three years of hospital visits and multiple operations that ultimately cost him his right leg.
Being introduced to SBG Cork City (Straight Blast Gym) owner and head trainer Liam-Og Griffin and in turn ALTA MMA Training was the light in the tunnel that not only transformed O'Leary's mindset and health but was a life saver when he lost his rock and great love, wife Rose to cancer less than a year later.
Today O'Leary has won some fights, lost a couple but has earnt his hard-fought reputation for never "tapping out" or submitting to an opponent. A mountain climb and competing internationally are next on his agenda.
"I can deal with anything now. I see losing my leg, and all I have survived, as a power that motivates me to do better. I am a warrior. I transformed my outlook on life. I can do anything." Sean says.
Fate has dealt Irish para-athlete, Sean O'Leary, some incredible blows but the day he met trainer Liam Griffin from SBG Cork City "was the start of his new life".
Liam runs the gym with his sister, Marlene who both have a long association with martial arts and fitness. Liam is the head MMA trainer and conditioner and Marlene works supporting and promoting the mental health benefits of exercise.
I am interviewing Sean and Liam via Zoom. Liam sits close to the computer and with short hair and a beard looks much younger than his 43 years. He trains some of the best emerging Irish UFC fighters at one of the biggest gyms in Cork.
Sean's bulk takes up most of the monitor. He looks exactly like you imagine a fighter to look, bald and hard. His arms are tattooed and bulging reflecting hours of intense heavy lifting. He has an impressive intensity, even over zoom.
"Oy there kid. All right aye?" Sean says and smiles, his face creasing with deep wrinkles. "Thanks for the opportunity."
Sean and Liam are speaking to me from a room in SBG Cork City.
"I'm moving in," Sean says. "You should see the change room. I've got three prosthetic legs in there. One for walking, one for weights, one for the shower. People who don't know, go in there and think there's been a massacre and that this must be a mad house."
Sean jokes easily but the journey from a small injury during a day at the beach a decade to where he is now was anything but.
Getting Stuck into the ALTA MMA Training
Taking Sean from 127 kilos and a largely sedentary life to a fight weight of 79 kilos with a body fat ratio of 13.4 took an enormous amount of work and thinking.
Like a jigsaw, Liam moved and changed training elements to match Sean's ability. The first part Liam focused on was weight loss. The attack was 2-pronged, exercise and diet. Sean started training 3 nights a week, focusing on strength and resistance training. Liam also organised a nutritionist who got Sean to eat mindfully and modify his diet. Sean replaced processed foods and sugary drinks with a diet heavy in protein, simple carbs and lots of vegetables.
"My first goal was getting to 90 kilos – a 35 kilos lost. I remember the day I stood on the scales at the gym when I had just hit 90 kilos. I couldn't believe it!" Sean says.
The next stage was the most difficult for Sean. At the beginning of the ALTA MMA Training, a major obstacle Sean had to overcome was balance. Sean, who is a natural right-hander, had to learn how to fight as a left-hander to give him the ability to stand and strike confidently.
"Liam would look at my style and would modify movements for me. I almost gave up, but he was determined to make sure that I came through."
Liam worked relentlessly with Sean going over each movement until Sean perfected it and was confident.
With the balance challenge solved, Sean was able to perform all of the ALTA MMA techniques and continue training. That intense focus turned out to be a godsend for an additional reason. Sean's wife of 25 years, Rose, who had been the greatest advocate of the benefits of training for Sean's new life, died of cancer in October of 2020, just a month after they renewed their wedding vows.
Sean is not only full of praise for Liam's methods as a trainer he also said that Liam, Marlene and SBG Cork City got him through this tragedy.
"I was in a really dark place; it was very hard. I went back to SBG and Liam and Marlene wrapped me up, they treated me like family, they became my family. Nothing was too hard for them. They looked after me."
Liam and Marlene organised a fundraiser for Sean so he could get a titanium prosthetic leg that would help him continue his training. "He'd progressed so much,' Liam says, "but he needed a new leg so that he could do all of the training and so we thought 'perfect', a fund raiser to get a new leg would motivate him and give him that goal. We knew he could do it."
Sean returns the respect: "Liam has a knack of putting certain ideas in your head and then he'll walk away and leave you chewing on it. The idea then takes over your brain and you go back to him, and he takes you to the next level.
"Anything I've ever achieved here Liam has put the idea in my head. He spoke to me about a triathlon, and I thought 'if he believes in me, I can do it."
Sean competed in his first triathlon on 21 June 2021 and raised money for his new titanium prosthetic leg. With this goal conquered Liam raised the stakes and enrolled Sean into a new challenge. Only a week later, Sean began the ALTA MMA Training program.
"I was still sore from the run. I probably didn't get a chance to think about it," Sean says laughing.
"ALTA MMA Training was perfect for Sean," Liam says, "he'd already done a little jiu jitsu and a bit of boxing. I knew that he'd lose a lot of weight and keep pushing towards his other goals. Sean's a guy who once you get him on a path is unstoppable. ALTA MMA Training fit Sean's personality perfectly."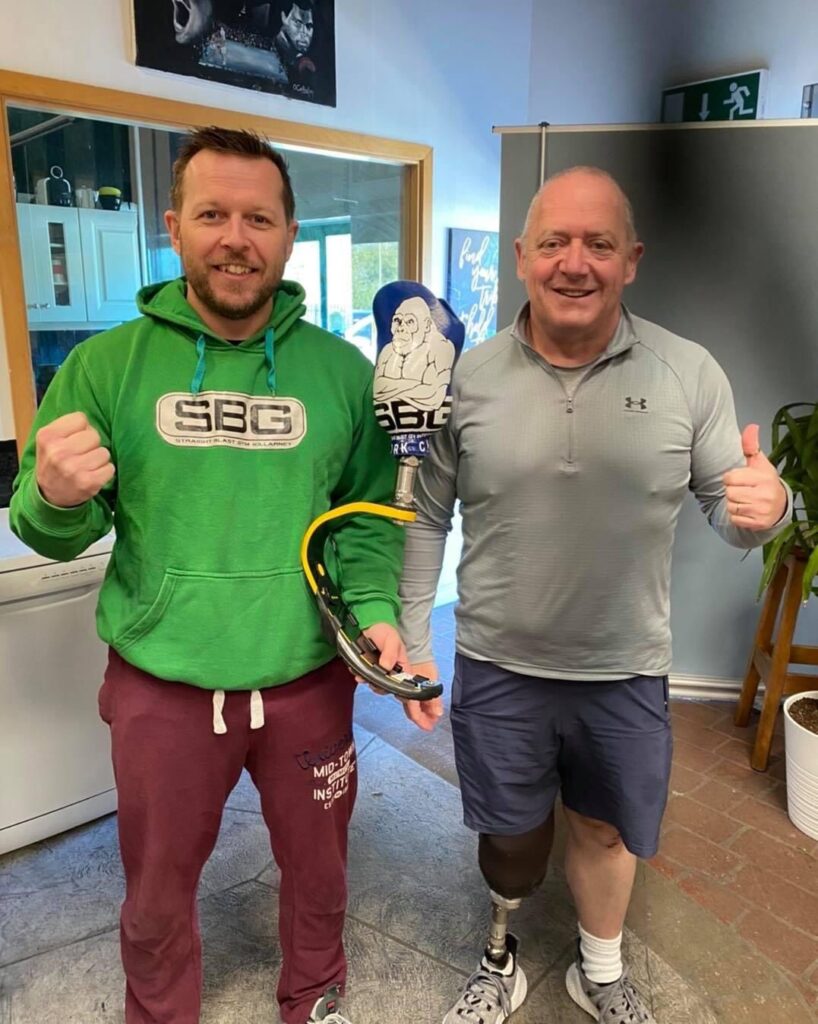 Sean reflects on his ALTA MMA Training
The training schedule Sean says, was a great leveller. He wasn't given any special treatment by the SBG coaches taking part in all aspects of the ALTA MMA training – striking, wrestling, conditioning and strength work. Through this Sean saw that he could achieve and surpass any of the mental and physical limits he might have imposed on himself. As he progressed his mindset shifted and with it his belief in himself grew. Once full of fear he credits the ALTA MMA program with helping him to see himself in a new positive way showing him what he was truly capable of.
"People have fear, I used to live with the fear but sometimes you have to be taken out of your comfort zone. ALTA MMA, and Liam did that for me. Now I realise that I'm much stronger I ever thought I could be." Sean says.
It wasn't only the trainers, though who helped Sean through the training. Sean was driven to succeed by the community of ALTA MMA who's support encouraged and fostered a sense of comradery.
"The thing about the ALTA MMA training which I loved is that the others in my group treated me completely normally. We were all starting off on the same level, no egos, no one thought they were better than anyone else. It was a level field. You don't know what anyone's story is, how much money they have, nothing. We're all in the same boat. No one had fought before; it was like a big supportive family. The atmosphere of the training was indescribable." Sean says.
Sean takes to the cage
Sean was the last ALTA MMA competitor to go into the cage.
"I was the last fight on the cards. I was nervous with the waiting but when I went out and my song started, and the crowd cheered the adrenaline kicked in. It was like nothing else I've ever experienced. I can't explain it, magic."
To demonstrate Sean's skill set, Liam organised 2 fighters to fight Sean back-to-back. Sean would have no rest between the fights. The first fight saw Sean matched against a fully abled fighter 12 years his junior. The bout had to be modified so as not to favour Sean.
"It was boxing and not kick boxing," adds Sean, "it'd be unfair to use my titanium leg. In this case having a prosthetic leg would be an advantage," Sean says laughing.
"Sean fought with his leg on, but it was just boxing. No take downs, or groundwork." Liam says.
Sean won the fight TKO, technical knockout in the first round. Sean is humble and expresses thanks to his opponent for the opportunity.
"But he's such a good lad. It was good of him to fight me like that, really good. I'm very grateful," said Sean.
Sean didn't have time to reflect on his victory but had to fight another fresh opponent, this time the competition was jiu jitsu. Sean narrowly lost his fight on points 10 to 15 but for Sean the fight was a victory, he didn't submit or tap out. He sees the fight as a learning experience that motivated him to improve.
Sean's Victories Keep Mounting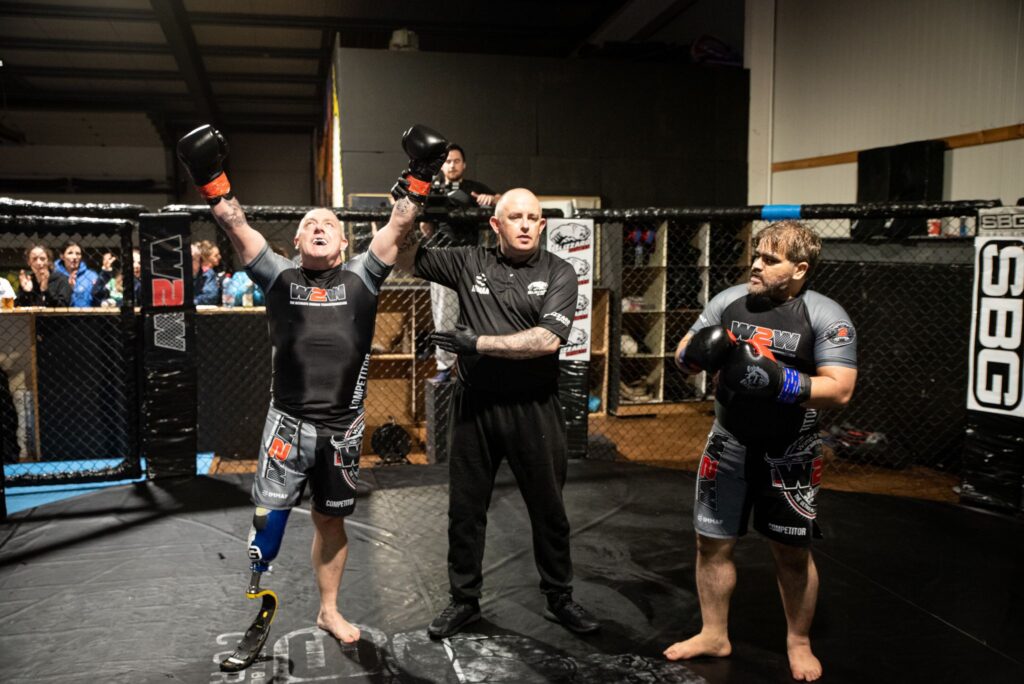 After his experience with ALTA MMA Training Sean has focused on improving his jiu jitsu. 6 weeks ago, he competed in the Irish Masters Jiu Jitsu competition where he fought up a weight class against an opponent 20 kilos heavier than him. Sean doesn't waver now at the prospect of being matched with an opponent stronger or younger than him. Mentally prepared Sean now see's challenges as opportunities to test his skills, learn from the experience and to keep improving.
"I love jiu jitsu. I love getting into it and competing. I love the physical stuff and I love having someone who is just trying to physically overpower me. I love it when I can fight someone and test my skill, and to come out of it and have learnt." Sean says
The next challenge Sean is aiming for is the Amputee Jiu Jitsu competition in Abu Dhabi in 2023.
A small injury becomes life threatening
Sean's accomplishments are all the more amazing, when you consider what he was fighting his way back from.
"In 2012 I was living your typical average life. Married with two boys, I was working as a driver, enjoyed a few drinks on the weekend, ate whatever, [and had] average fitness. I played Gaelic Football and Hurling when I was younger but stopped doing any sport when I was about 44.
"I trained young guys in Irish Hurling a couple of times a week, but I was pretty average for someone my age."
"Then I was at the beach and got a small cut on my right heal and being a typical man, I threw [a band aid] on it, it healed up and I didn't think any more about it."
Sean's foot deteriorated over a number of months, but the changes were more gradual than dramatic – at least at first.
"The pain would come and go, mainly at night lasting a half hour but then a bit longer. It didn't stop me during the day cause I was in the car.
Sean went to see a doctor who put the foot pain down to the initial injury being knocked about when he was training the hurling team.
The pain continued to increase and 6 months later "was excruciating".
"I couldn't walk, and I couldn't work. I went to hospital where they did loads of test and found out it was Chronic Osteomyelitis. It's a rare disease that attacks and eats the bones. I couldn't work out how I'd got it, but my wife reminded me that months ago I'd got the cut on the heal. That was how we worked out how the infection got into my leg. It was just a tiny, tiny cut that I didn't take care of."
Descending into the fog
"I was in a real dark place. My life and everything was pain, and hospitals. I couldn't work, I couldn't walk. I could do anything, and I was on very strong medication … medication that would knock you out, but even that wouldn't take the full amount of pain away for me."
"I just existed. It was like I was a different person – I was full of self pity and I couldn't see any way out. I had no hope, no goals. I was completely depressed. I stared out the window at home and comfort ate. It was so bad that I couldn't even put on a sock.
Sean says the only bright side was the infection didn't move from his right leg into the rest of his body.
He is also full of praise for the doctors and nurses who looked after him over a 6-year search to find a way to heal him including a range of medication regimes and operations. Hospital stays lasted a minimum of 3 months each time he was admitted.
"My wife Rose kept everything going. I couldn't look after myself. She looked after me, showered me, got food, took me to appointments ran the house and took care of the boys. She kept it together for us all. If it wasn't for her, I just don't know."
In September 2018 doctors told Sean they would need to remove his right leg to save him.
"My doctor said that the disease was like a volcano and could erupt and take my life."
Post op, Sean didn't know how he was going to face the rest of his life then he walked into SBG Cork City and met Liam and Marlene.
"I was terrified. I came down here on crutches, grossly overweight, full of anxiety and fear and totally lost. Then after 5 minutes into it, I felt better than I had in years. I started coming out of the fog."
Sean's New Normal
Sean says that his old and new life are like 'black and white.' He wakes up wanting to take on the day. His outlook to life is positive and looks forward to any challenges seeing them as 'opportunities to learn and improve.'
He now trains every weekday. Starting at 6.00am with ALTA MMA Training he then does 2 hours of weights. Sean then has a break from the gym going home for a late breakfast. It's then back to SBG for 2 hours of jiu jitsu or striking practice and further conditioning training. His gruelling day finishes at 9pm. Every second Sunday is fight sparring at the gym.
With a new work-out regime Sean has also completely overhauled his diet. Gone are sugary drinks and the processed snacks he used to comfort eat. He now thinks about what he is eating and how this will help him with his training. His diet focuses on lots of protein, simple carbs, vegetables and lots of water.
Sean's future plans including wanting to teach first aid and CPR and become a personal trainer so he can help people achieve what he has achieved. He's aim now is to learn so he can give back.
"The biggest message I have is when you have a physical and mental trauma it doesn't define you. You can change your mindset. I'm missing a leg; I lost my wife, but I didn't sit back and say poor me. I don't want to be that person. I want to prove that I can do it." Sean says.
"When I fight, I know I've got my wife and boys in my corner. Liam and SBG guided and gave me the skills. The ALTA MMA Training program gave me the challenge and I did it."
"Every day is learning, pushing and grinding. I'm 100% focused. I never tap out, I never submit. I'm a warrior."
---
Jeremy Aitken has been training for two years and loves the ALTA MMA program. He is the author of the novel Crystal Street, and in 2006 was Highly Commended in the Vogel/Australian award for his manuscript, 'The Bike'. He is the co-founder of the publishing house, Best Independent, and is an English teacher, nursing student and freelance writer.
---