By William de Maria with Pearls and Irritations
While sitting in on 24 soldier funerals did Gillard ask herself the same question, in substance, "is it worth it?". No doubt each time she would have given herself the same answer "yes".
Even the sun was diffident. What good would come from shining through the sacred windows of the little Baptist Church on Firhill Street in Ashgrove, Brisbane? Would it be enough to light up the deep gloom inside? For therein lay the body of 28-year-old Lance Corporal Jarred "Crash" McKinney. He was killed 18 days earlier, on 24 August 2010, in a firefight at an undisclosed location in deadly Uruzgan Province. Military intelligence had underestimated the force of the Talban. They hit McKinney's Mentoring Team Delta with a savagery the Australians had come to expect. Despite wearing his body armour system with plates fitted front and rear, McKinney sustained massive trauma to his chest and died instantly.
So, there he was. Inside the little church for his funeral with full military honours. It was 10 September 2010. Nine years and one day after the 9/11 bombings in New York that drew Australia into its most shameful war.
Sitting in the front row of the church was Jared's wife Beckie, holding their three-year-old daughter Annabell's hand. Beckie was pregnant. "Jared was a very loving dad, a doting father, and nothing meant more to him than family. He was really the best husband and we shared the most amazing 11 years together," she said. Sitting next to her were his parents and other close relatives.
But who is that in the second row? Why Julia Gillard! As prime minister for three of the 13 years Australia was in Afghanistan, Gillard attended 24 of the 41 funerals for soldiers killed in that theatre of war. There she is, squeezed between Tony Abbott, then opposition leader, then defence minister John Faulkner, Anna Bligh, then Queensland premier and a licorice all sorts of other political and military dignitaries. What were they doing there? Have the war-makers became the war mourners?
How much warning did the traumatised McKinney family and the other 40 families of the dead special forces soldiers have of the attendees? They seem to have had little choice but to accept that prime ministers, opposition leaders and other dignitaries would swoop into the military funerals and leave just as quickly. The grim flotilla would have left some families overwhelmed and side-lined. Others would have appreciated the official attention.
Special forces, by training and experience, are deeply clannish. Benjamin Chuck died on a night mission to Hajian on 21 June 2010 when his Blackhawk helicopter descended to the ground too quickly at a speed of about 350 kph and burst into flame. For his funeral, his 2nd Commando Regiment buddies were flown back from Afghanistan. That's how tight they were. These soldiers who attended the funerals of their buddies would have seen all but themselves and the soldiers' families as outsiders. Anger would have run deep on many occasions.
One picture of the McKinney funeral show Gillard and Abbott standing together outside the church. Not because they had put their hatred for each other on hold but because both could not afford to be absent. Gillard was fresh from her election victory of sorts which resulted in a hung parliament. Abbott could smell the prime ministerial leather.
It got too much for some families in the end and requests were made for politicians not to attend.
---
---
EXTRACT FROM HIDEOUT IN THE APOCALYPSE BY JOHN STAPLETON
Straight-faced, former Australian Foreign Minister Julie Bishop denied on the national broadcaster that 41 Australian soldiers had died in vain.
Old Alex did not agree.
He had interviewed a lot of former soldiers over the years.
They were almost invariably traumatised by their experiences, regarded war as a mistake and held little but contempt for the politicians who had sent them into harm's way.
Then Prime Minister Julia Gillard attended 24 funerals for Australian soldiers while she was in office.
In a rare display of self-doubt, she said: "Somewhere inside you it does wear away. You really have to sit and reflect to yourself, you know, am I still sure this is worth it? And I would always get to the conclusion that it is, but there was a tussle."
No, it was not "worth it".
The dead weren't her sons, her brothers, her husband, her father, her friends. She could dismiss them, rationalise their deaths, because their funerals were simply part of her political duties. But their families could not.
Those men, yes, they were all men, died not because their homeland was under threat, not to help the people of another country, but for the sake of a military alliance built around multi-billion dollar procurement contracts and intelligence sharing; because, just as it had done in Vietnam, Australia always unquestioningly followed America into conflict no matter how patently unjust, counterproductive or clearly mismanaged.
---
---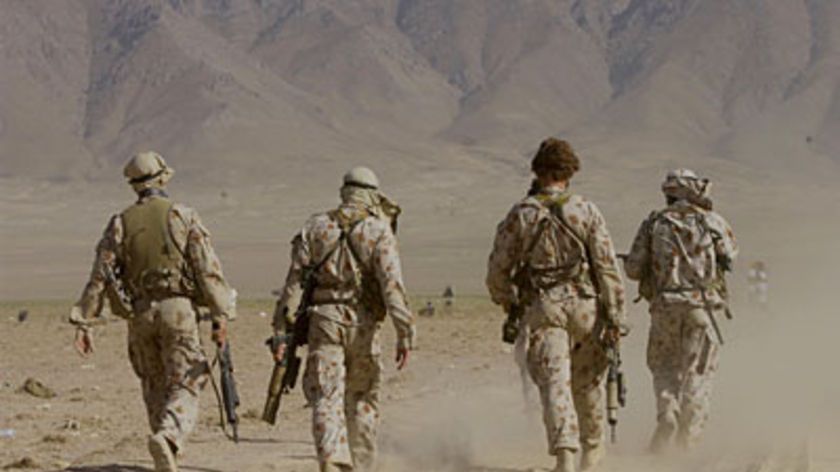 While sitting in on 24 soldier funerals, did Gillard ask herself the same question, in substance, "is it worth it?".
No doubt each time she would have given herself the same answer "yes".
To me this doesn't feel like moral reflection but more like political pragmatism. Her second-term priorities contained no mention of working towards the end of the Afghanistan engagement. Her objectives included the usual bi-partisan fervour to maintain the US alliance above all else. Afghanistan got a peripheral mention as a reverse jihad against the Taliban to keep American citizens safe in the future.
Gillard will be remembered for 23 words, "I say to the Leader of the Opposition [Tony Abbott] I will not be lectured about sexism and misogyny by this man. I will not." First female prime minster, brave advocate of education for girls and a strong voice for mental health. These will take her into history.
But some will remember she was the prime minister who stood by and watched the Afghanistan carnage in the killing fields of Uruzgan Province and beyond. Up to 86,000 unarmed Afghan civilians pockmark this dry land with their tombstones.
Yes, Gillard is safe for now. But with her decision to allow a permanent US Marine presence in Darwin as part of the Pentagon's Pivot in the Pacific policy against China, we must ask how safe has she made Australians not yet born?
---
William De Maria's next book, Australia's War of Shame: Afghanistan 2001-2013, is due out in 2021, the 20th anniversary of the occupation of Afghanistan year.