TOTT News and Others.
URGENT: Army deployed to indigenous NT region, 'positive cases removed from community'
The remote NT areas of Katherine, Binjari and Rockhole have been placed into a hard lockdown, with an operation underway that includes transferring positive cases and close contacts, that is entire remote communities, from their sacred homelands.
In Australia's heavily manipulated media environment, TOTT News is one of the very few outlets in the country following this story critically and in depth.
And yet this is one of the most truly outrageous, and most important stories, this country has ever seen, with repercussions stretching well beyond the alleged forced vaccination of sovereign peoples against their will. And on their own homelands.
The Covid narrative is unravelling worldwide. It should be called out.
Here is a video of an indigenous women, illustrating fully the immense fear and distress the government is creating in these people's lives, all in the name of keeping the community safe.
---
The story is attracting excoriating international coverage.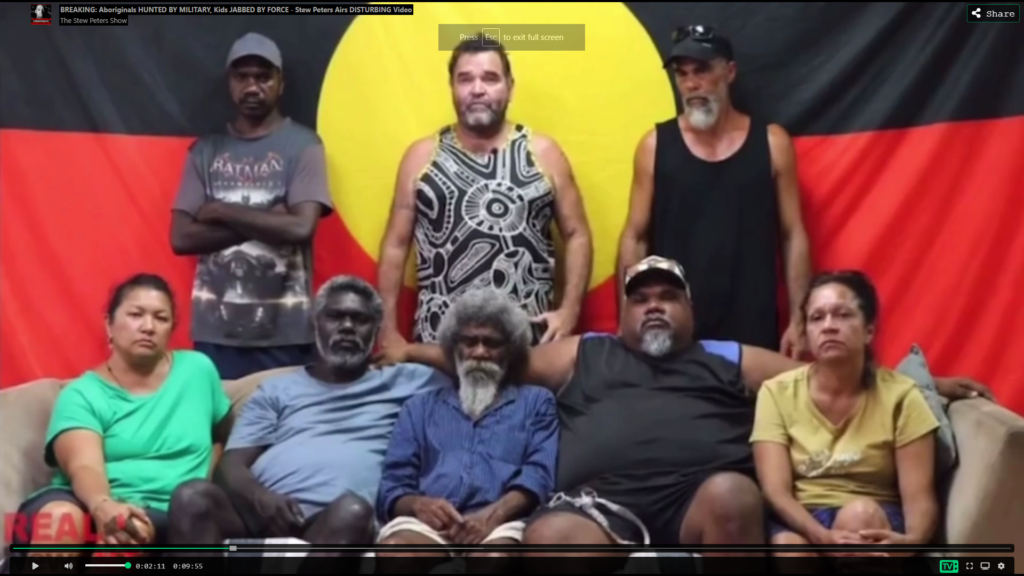 ARMY MOVES ON FIRST PEOPLES
An urgent development is unfolding in the Northern Territory.
Australian Defence Force (ADF) personnel have been deployed in army trucks to 'assist' with a reported COVID outbreak in remote indigenous areas, it has been announced.
The remote community of Katherine and surrounding areas of Binjari and Rockhole have been placed into a hard lockdown, with Chief Minister Michael Gunner telling reporters that an operation has begun overnight that included a co-ordinated removal of positive cases out of the community.
"It's highly likely that more residents will be transferred to Howard Springs today, either as positive cases or close contacts."
"We have already identified 38 close contacts from Binjari, but that number will go up. Those 38 are being transferred now."
An expanded rapid assessment team has hit the ground to begin contact tracing and around 30 personnel have been deployed from Darwin and Alice Springs to assist residents.
Gunner says in the video above that the "residents of Binjari and Rockhole no longer have the five reasons to leave their homes," which included buying food and supplies, exercising for up to two hours, care or caregiving, work, or education.
Now, these restrictions have tightened until members of the community get vaccinated.
"They can only leave for medical treatment, in an emergency, or as required by law."
The measures — the toughest actions deployed in the Northern Territory to date — will likely stay in place for the next 14 days.
Gunner said that he had contacted the Prime Minister last night and that they are grateful for the support of ADF personnel, as well as army trucks to assist with the removal of positive cases.
Under section 477 of the Commonwealth Biosecurity Act 2015, people are currently prevented by police from entering and/or exiting the Robinson River and surrounding homelands.
The government has been aiming to reach a target of 80% fully-vaccinated by 20 December.
However, due to objection from indigenous communities, reaching this was now in doubt.
In fact, to achieve this, first doses would have to be administered this week.
Next thing we know, an 'outbreak' has come along and the army has been deployed to transfer any 'threats to the community' away to the Howard Springs Quarantine Facility.
A 14-day stay in a Northern Territory facility costs $2,500 for an individual, and $5,000 for a family. An additional 10 days adds $1,750 for an individual and $35,00 for a family
The Katherine region will remain in lockdown for days to come, as authorities await the results of more than 1,300 tests, amid concerns that the virus may have spread.
Health workers have begun door-knocking homes to boost vaccination rates in the communities, where Mr Gunner lamented rates were much lower than 70 per cent.
In the past 24 hours, 29 people have been vaccinated in Rockhole, with 27 of those receiving their first injection.
In light of protests on the weekend in Darwin and developments today, tensions are high in the state.
So much so, that it seems the pressure may be getting to Gunner.
GUNNER SNAPS AT OBJECTORS
Gunner took the opportunity to UNLEASH against those who object current mandates and increased focus on indigenous communities, in a truly stunning display during questions with reporters.
He labelled anyone who disagrees with mandatory vaccination as an 'anti-vaxxer'.
"If you are anti-mandate, you are absolutely anti-vax. I don't care what your personal vaccination status is. If you support, champion, give a green light, give comfort to, or support anybody who argues against the vaccine – you are an anti-vaxxer. Absolutely. Your personal vaccination status is utterly irrelevant."
This is the man at the helm of the Northern Territory's COVID outbreak response.
Some commentators have suggested petitioning the Gunner government to enforce a 95% vaccination rate on remote communities.
The Aboriginal Medical Services Alliance said it had to find out about Mr Gunner's decisions from the media, a testament to the lack of consultation the regions themselves have had in this process.
What is really going on in the Northern Territory?Advertisements
"THEY'RE KILLING OUR PEOPLE"
At present, as nobody is allowed in or out of the region, it is hard to tell entirely what exactly is happening with these residents outside of the statements released by authorities.
Not even those in the indigenous communities are able to get an understanding, it seems.
In the following video, one concerned resident calls for more transparency from the government and more communication from her peoples on-the-ground — which she says, has gone quiet.
Community elder, Mary, gives a picture of the distress and confusion currently in the region:https://videopress.com/embed/nvpYDkRH?cover=1&preloadContent=metadata&hd=1
Vaccination rates remain considerably lower in remote indigenous communities across Australia with Aboriginal health groups announcing that they are 'fighting pockets of vaccine hesitancy'.
Should the government be attempting to coerce an indigenous population against their wishes?
Hopefully more people with use the power of social media to broadcast their message to the world.
---
UPDATES
PHOTO EMERGES
A photo supplied to TOTT News shows what appears to be members of the ADF-led rapid response team, alongside health staff that are administering door-to-door vaccinations for residents.
The NT government say they have identified 38 close contacts from Binjari that were transferred, and expect the number to go up over the coming days.
On-the-ground media remains scarce due to poor reception in these remote areas and the fact that nobody can enter into the regions to document for themselves.
NO ENTRY TO REGION
Under Section 477 of the Commonwealth Biosecurity Act 2015, all people are currently prevented by police from entering Binjari and surrounding regions in the NT.
Requests to the NT government for media access have not yet been met with a response.
VACCINE CAMPAIGN
One thing that can be reported on in the vaccine campaign on-the-ground, to which NT Health and local authorities have been releasing official media over the last 24 hours.
Health workers have begun door-knocking homes to boost vaccination rates in the communities, where Gunner lamented two days ago rates were much lower than 70 per cent.
Here is where things get interesting.
Stunningly, Gunner announced in this morning's press conference that the 'vaccination surge' in the areas of Binjari, Rockhole and Warlpiri have resulted in a 100 per cent first-dose rate.
That's right — according to the government, the remaining 30% of the unvaccinated community have all now received their first dose in the last 72 hours.
"Obviously, you prefer to vaccinate people in advance, but a reactive vaccine response is critical to reducing hospitalisations," Gunner said
Hang on a minute.
How did a remote community with such high objection — to the point Gunner unleashed on (in his words) 'anti-vaxx' campaigners yesterday — all of a sudden become persuaded to get the first jab?
What is going on here?
Does a 70% to 100% jump sound like it was under the circumstances authorities say?
Furthermore, stories are emerging of contact tracing search efforts for residents who have escaped the region in the last 72 hours.
RESIDENT ESCAPES
Eleven new COVID cases in the Northern Territory were announced this morning, with authorities saying they are 'facing a setback' after a 'COVID positive woman' broke lockdown rules to leave.
Contact tracers spent the evening and day searching for a woman and her friends who left the area and called a taxi to head to a community north of the lockdown.https://videopress.com/embed/imW1OSuv?cover=1&preloadContent=metadata&hd=1
As presented by the Police Commissioner this morning, a woman left Binjari with close friends, along with three other residents, last night.
"We understand it commenced under the darkness of last night," Commissioner Jamie Chalker said.
They were soon apprehended at a public housing block in Katherine.
Afterwards, they were taken to the 'Centre for National Resilience':
Remember when Dr. Kerry Chant said authorities would be "exploring what contact tracing will look like in the New World Order"? Perhaps the answer has now began to surface.
While most downplay the occurrences here, others are crying out for assistance.
SOS FROM TRIBAL PEOPLES
Everyone has been talking about the urgent matters happening in these communities, and late this afternoon, members of the original Sovereign Tribal Federation issued a plea to the world.
They call for international assistance in response to what is happening in the Northern Territory, describing indigenous peoples as "guinea pigs" for a larger agenda.
Skip to 9 minutes 5 seconds for the message to the public: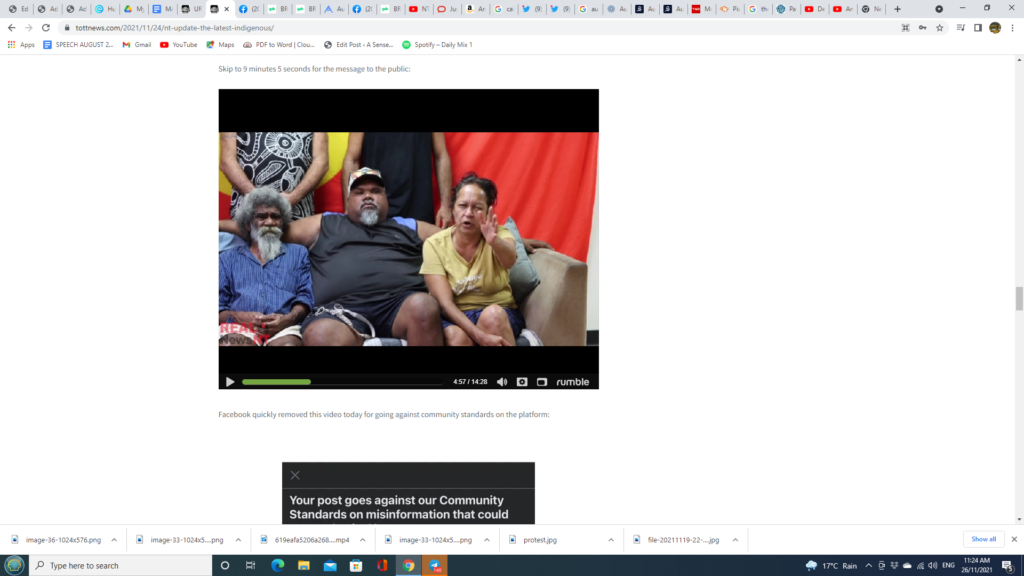 Facebook quickly removed this video today for going against "community standards" on the platform:
For researchers, or anyone who believes in the free flow of information, the video can be viewed on Rumble or through the original TOTT News story here.
Members of the group were present at Saturday's march for freedom, in which police arrived and used pepper spray to arrest and disperse demonstrators.
---