By Paul Strangio: Monash University
Who have been Australia's most accomplished federal opposition leaders? The conventional answer to this question is Robert Menzies and Gough Whitlam, both renowned for rejuvenating their respective sides of politics and galvanising new constituencies of support.
But what of the opposition leaders who never made it to prime minister: which among them boasts the most outstanding record? In modern times, Bill Hayden, who died this week aged 90, has powerful claim to that title.
Hayden's public career began in December 1961, with his election to the House of Representatives as the Labor member for the Queensland electorate of Oxley. It came to a close in February 1996, at the end of a seven-year tenure as governor-general.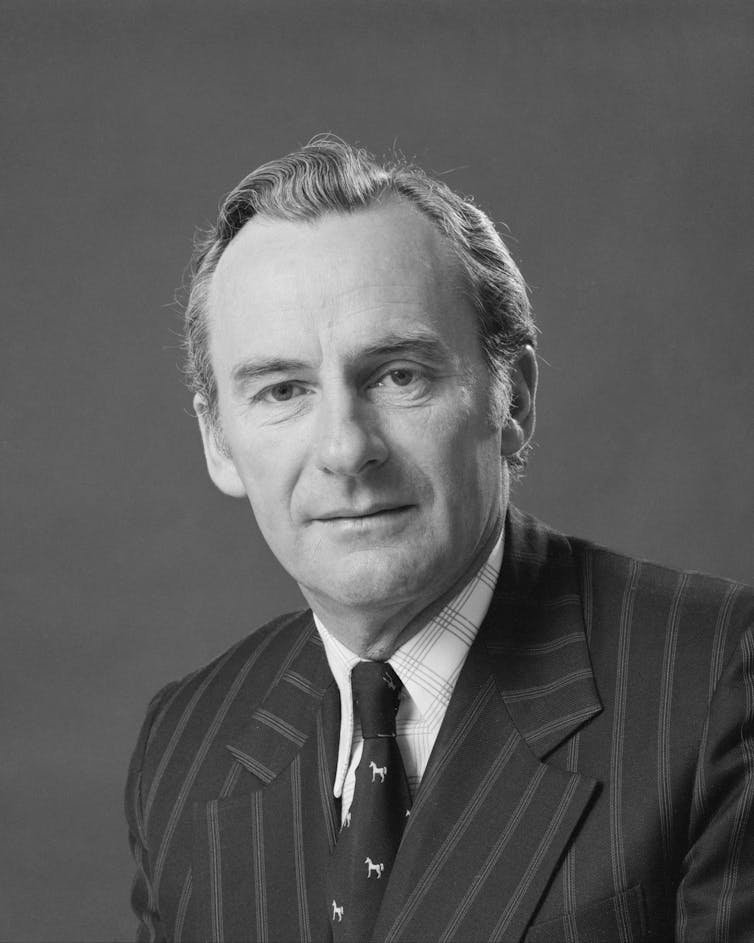 During this time, Hayden established a significant legacy.
In the Whitlam government, he was the minister responsible for enacting the pioneering universal health insurance scheme, Medibank, which was revived and rebadged as Medicare in the 1980s and now enjoys sacred status among Australia's public policy institutions.
He was Labor leader from December 1977 to February 1983, restoring the party as a credible electoral force following the trauma of the 1975 dismissal.
Hayden assembled a formidably talented ministerial team that would later become the engine room of the Hawke Labor government.
Relinquishing the leadership to Hawke in wrenching circumstances on the eve of the 1983 election campaign, he was a long-serving minister for foreign affairs (and trade) from 1983 to 1988 before assuming his vice-regal appointment in 1989.
---
'Growing up, getting angry'
Born in 1933, Hayden was a child of the Great Depression. In his 1996 autobiography, the section on his early life is titled, "Growing Up, Getting Angry". Hayden's father, a piano tuner of radical political bent, struggled to provide for his family. He had a weakness for alcohol and a volatile temper.
Hayden described his parents as "busted by the Depression" and wrote that they:
hated a system which had treated them, and legions more, so villainously. Their hate and disgust were my legacy.
Educated at a series of schools in working-class Brisbane, Hayden became a junior clerk in the Queensland public service before entering the police force at age 20. Though initially diverted by the human drama of his police duties, he gradually grew frustrated both professionally and intellectually.
According to a biographer, he also "increasingly believed there needed to be political rather than policing solutions" to the social problems he encountered on the beat. As way of compensation, he studied part-time for his matriculation and joined the Labor Party, which was convulsed by its 1957 split in Queensland.
---
Reforming spirit
When Hayden secured preselection for the seat of Oxley in 1961, local party wisdom was that the seat was unwinnable for Labor. Supported on the campaign trail by his wife, Dallas, who was pregnant with their second child, Hayden's surprise victory was also aided by Whitlam, who "dazzled" Queenslanders with a platform of "northern development".
Joining a caucus ranging from gnarled veterans like Arthur Calwell and Eddie Ward to the rising generation of leaders, Whitlam and Jim Cairns, Hayden gravitated towards the left. He fell under Cairns' spell, an enchantment he later regretted:
It was his feet. We should have looked at them from the start. Clay!
In an era when advancement through the party ranks was painstakingly slow, Hayden had to wait until 1969 to enter Labor's shadow cabinet, now led by Whitlam. Having undertaken part-time university studies in economics, he hankered after a portfolio in that area.
Whitlam instead assigned him health and welfare, promising: "Comrade, we're going to do great things in this field". Once in government, Hayden did just that as minister for social security. He introduced a host of new measures, including the single mothers' benefit.
The battle for Medibank was ferocious. The Australian Medical Association, private hospitals, private health insurance funds, the non-Labor states and the Coalition-controlled Senate were all virulently opposed. Hayden bore the brunt of the fight – most cruelly, rumours were peddled that he was mentally unstable, a legacy of the tragic death of his eldest daughter in a road accident a decade earlier.
Though one of its reforming spirits, Hayden was also an internal critic of the Whitlam government. He was dismayed by the freewheeling spending of his colleagues.
When Cairns stumbled in mid-1975, a victim of Labor's ill-fated loan-raising activities, Hayden replaced him as treasurer. He produced a budget that steered Labor towards a path of fiscal rectitude, foreshadowing his efforts as opposition leader.
Hayden was a Labor heretic too, at least in retrospect, about the circumstances of the dismissal of the Whitlam government in November 1975. After a meeting with Governor-General Sir John Kerr five days before the dismissal, Hayden warned Whitlam that his "old copper's instincts tell me he's going to sack us". Whitlam brushed off his advice.
Coloured by his own vice-regal experience, Hayden treated Kerr sympathetically in his memoir, writing that "[he] sought to do what he believed was right and proper" and was "not an arch villain but rather, at its worst, perhaps someone miscast by history".
---
Leading Labor's recovery
Hayden's time as opposition leader was the pinnacle of his public career. Whitlam first offered him the role amid the carnage of Labor's 1975 election defeat. When Hayden was eventually elected to the position two years later, there was still a huge recovery task to perform.
His chief priority was "to re-establish public trust in our ability to manage the economy soberly". This was achieved through rigorous costings of expenditure proposals and the development of credible revenue measures. He also pursued party reform, with the 1981 special national conference adopting sweeping changes that included an historic affirmative action plan.
As Paul Keating remembered, Hayden brought "order, focus and policy consistency" to shadow cabinet meetings and constructed a front bench "prepared to conduct themselves around the principles of rationality and accountability to which Bill was committed".
The names of those in this camp read like a "Who's Who" of the Hawke era: John Dawkins, Ralph Willis, Peter Walsh, Susan Ryan, Lionel Bowen, John Button, Neal Blewett, Don Grimes, Gareth Evans, John Kerin, Chris Hurford and, of course, Keating himself.
Following gargantuan losses under Whitlam to Malcolm Fraser's Liberal National Party Coalition in 1975 and 1977, Hayden led Labor to a dramatically improved result at the October 1980 election. The party's primary vote increased by over 5% and fell only narrowly short of winning the two-party preferred vote.
But the election also presaged trouble for Hayden, with the arrival in caucus of the irresistible force of Bob Hawke. Virtually from that moment, Hayden's leadership was stalked by Hawke and his supporters. Increasingly embattled, his weaknesses festered.
Reserved and suspicious by nature and prone to self-doubt – in his autobiography, Hayden acknowledged he was subject to periodic bouts of depression – he became isolated and, according to some detractors, paranoid. Compared to the swaggering Hawke, Hayden was also a grudging media performer: his voice and dress sense were butts of criticism.
Hayden prevailed against Hawke in a leadership ballot in July 1982, but the narrow margin ensured that Hawke's backers continued to circle, brandishing opinion polls as evidence of their champion's electoral Midas touch.
---
Standing aside
In February 1983, Hayden bravely bowed to the inevitable following a decisive intervention by his confidant, John Button, who bluntly informed him that he did not think he could win the next election. Announcing his resignation (on the same day Fraser called a snap election), Hayden begged to differ. He uttered a phrase immortalised in Australian political folklore:
I am not convinced the Labor Party would not win under my leadership. I believe a drover's dog could lead the Labor Party to victory the way the country is and the way the opinion polls are.
One of Hayden's conditions for standing aside as leader was being made foreign affairs minister in a Hawke government. In office, he established a respectable record in the portfolio, including leading a politically charged review of the ANZUS treaty and promoting a Cambodian peace plan (concluded under his successor, Gareth Evans).
Yet there was a sense of anti-climax to those years. His chosen means of exit from parliament – the governor-general's residence at Yarralumla – perplexed those who had regarded him as a republican. Subsequently, disavowing that position, when Hayden was chosen by the Howard government as a delegate to the 1998 Constitutional Convention, he went as a defender of the constitutional status quo.
He surprised at the Convention, however, by embracing the idea of a directly elected president, before campaigning against the republic at the referendum the next year. These twists were symptomatic of a capriciousness to his public interventions in later years, accompanied by occasional unbecoming acerbity towards former Labor colleagues. This led to suspicions that the wound of 1983 had never quite healed.
In his memoir, Hayden insisted on the consistency of his belief system. His guiding stars had been the values of a "secular, liberal humanist". However, in his final years the formerly avowed atheist caused further surprise by converting to Catholicism.
He perhaps had given hint to this direction in his memoir in his description of a philosophical self-awakening. Whereas he had once trusted in the transformative power of government for advancing "freedom, justice and security", experience had taught him:
not to expect too much from the crooked timber of humanity and to be cautious about the natural tendencies of political government, which are to aggregate more power to itself … to become remote and often unresponsive to public expectations.
Hayden, of course, shared in the human lot of being carved from "crooked timber". His flaws, though, paled against his substantial contribution to Australia's national life.
Paul Strangio, Emeritus professor of politics, Monash University
This article is republished from The Conversation under a Creative Commons license. Read the original article.
---

---