Reynolds' Cottages were built in 1829 by convicts. They are the earliest remaining dwellings in Sydney's historic precinct of The Rocks.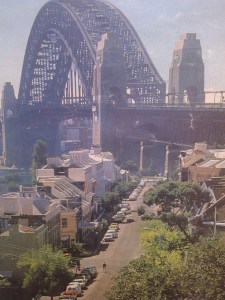 Unremarkable in their time, Reynolds' Cottages are remarkable today for having withstood the rampaging progress which has transformed The Rocks from a penal colony to a working class neighbourhood to a heritage theme park; and over the last 12 months to being, in a real estate obsessed city, at the heart of one of Austalia's most expensive and sought after neighbourhoods. Author Melissa Holmes argues: "Constant vigilance is required to preserve the authenticity of buildings such as Reynolds Cottages. As far back as 1823, bureaucrats and developers have conspired to accumulate power through property in The Rocks. The story of Reynolds' Cottages shows that nothing has changed, except the stakes of Sydney's cultural heritage."
The Rocks area is now in turmoil as the State Government prepares to sell off public housing, transferring more than 400 tenants and unlocking some of Australia's most valuable real estate. Many of the houses, which have historically long been held in public hands, have views of the world famous Harbour Bridge.
The redevelopment and privatisation of the area coincides with the building of NSW's largest construction project, a six star casino at adjacent Barangarooo, and is being criticised as a kind of "social cleansing". The National Trust has weighed into the debate.

The author is preparing to write a new history of the Rocks area, incorporating and expanding on Reynolds' Cottages: Living History. The book won the Woollahra Writers' Festival Non-Fiction Prize for 2010. Only five copies from the original printing remain. Signed copies of this piece of Sydney history are for sale at $120.