A tourist on seeing the cat sitting outside the incense shop, called him Frank. After frankincense. But the cat took no notice. Having sat on the steps of the shop for ten years, Aziz—for this was his real name —was indifferent to comment.
Another jokester —Aziz thought he might have been British — suggested a good name for him was 'Mus-cat' after Muscat, the capital of Oman.
Aziz thought this a little pathetic since Muscat was located around the next bay. He lived in Muttrah the port area, fish market and souq, so the man had simply made himself look foolish.
Aziz bin Sultan al-Hamra, to use his full name, was a part-tortoiseshell cat of origins obscure. His very pointed ears lent credence to a suggestion of royal descent. Had his ancestors once padded delicately around the Queen of Sheba's palace?
Bin Sultan means son of Sultan, a shrewd operator whose base was the fish market. Sultan had lived to a great age, fed on sardines and tuna scraps from the Arabian Sea.
No one knew Aziz's mother, a mystery cat who had delivered three kittens behind the mosque. But there were very few cats in Oman so perhaps she had once been a feral cat whom Sultan had met on one of his nightly strolls.
On seeing the kittens, a Danish embassy wife had taken them home. But only Aziz, the first born, had survived. When the Danes were posted to Moscow, their driver took the kitten to his brother who owned the incense shop in the souq.
And there the kitten had stayed. From an early age he took to sitting on the step watching passers-by. He never did anything beyond watch. It wasn't necessary. And as the only cat in the souq he was treated like royalty.
Old Mohammed who sold canes, ropes and sticks of tobacco brought him titbits from the butcher. Leila who lived in one of the tall, white waterfront houses put milk in a tin lid as she passed.
The man who owned the incense shop contributed nothing towards his welfare, but Aziz felt
this was fair as he allowed him to sit on the step.
Rents were expensive in the souq which had more than a hundred shops lining its narrow lanes. If he had to pay for a space on the step — perish the idea, thought Aziz.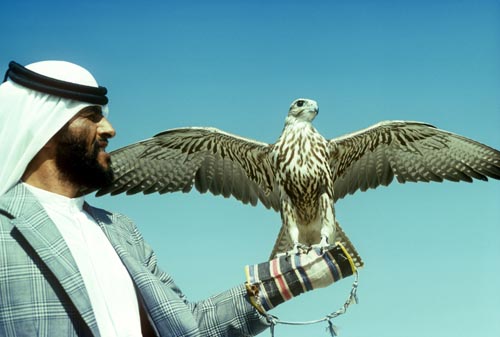 And why the incense shop? He could have sat outside the baker or the money-changer. But no. He liked the fragrance of smouldering resin, sandalwood and aloe, but especially the silvery beads of frankincense from Dhofar province in southern Oman.
He liked to sit on the step and inhale its scent, imagining himself in the Queen of Sheba's household. With slaves to brush his coat and trim his claws.
---
---