By Paul Gregoire: Sydney Criminal Lawyers Blog.
On 3 July, the initial, and thought to be only, Saturday of the "soft" Sydney lockdown, premier Gladys Berejiklian at her 11am announcement, jovially empathised with locals about the weather being "great" and asked those exercising outdoors to keep to groups of 10 and not let it become 20.
The entire weekend saw sunny mid-winter weather and residents of Sydney's Eastern Suburbs, the inner city and the inner west flocked to parks and beaches. People exercised, played sport and had picnics.
And despite the parks being more crowded than usual, there were no police patrols, no fines, and indeed, no worries.
However, during these days of the initial laxed lockdown, the COVID-19 delta variant managed to spread from the sun-bathing region of the Bondi cluster and found its way out to the communities of Sydney's southwestern region by Thursday, 8 July.
State authorities freaked. And NSW police announced it would be deploying 100 extra officers into the region, with the idea repeatedly flagged that the virus roaming around the less affluent and more ethic communities of southwest Sydney posed a greater risk.
And the soft lockdown was made hard.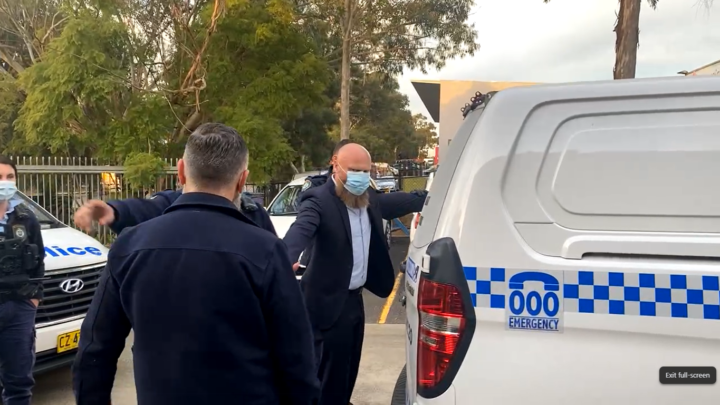 Migrant communities scapegoated
At 5 pm on 8 July, NSW police released a statement outlining it would "launch a major high-visibility operation across Sydney's south-west" to ensure restrictions were being followed.
The understanding here being that migrant communities who were locked down for three months last year, somehow didn't get it this time around.
So, mounted police, the dog unit, traffic and highway patrol cops, PolAir, traffic police and general duties officers were all being sent to Fairfield, Canterbury-Bankstown and Liverpool local government areas from last Friday.
NSW police minister David Elliott said the "delta strain is a game changer". Yet, he didn't explain why that hadn't been the case in Sydney's east. Meanwhile, the state premier met with key multicultural leaders from the region to ensure them that they weren't being scapegoated.
On Thursday afternoon, police raided the Chester Hill headquarters of popular western Sydney restaurant chain Rashay's based on a tip-off that 30 people weren't wearing masks in the office. The attending officers found two call centre operators allegedly unmasked and eating lunch at the time.
Rashay's livestreamed the incident, as company owner Rami Ykmour was arrested and taken away in a paddy wagon over not having produced the ID of one of the allegedly unmasked employees.
Rashay's COVID policing arrest. Screenshot take from Rashay's Facebook page
The new norm
The heavy-handed police approach to the COVID-19 health emergency was taken in all Australian jurisdictions at the onset of the pandemic.
In NSW, this stance was strengthened when police commissioner Mick Fuller was appointed state emergency controller in April 2020, which meant he was in charge of the entire pandemic operation.
The initial nationwide and months-long shutdowns were marked by officers taking an overbearing approach to enforcing their newfound powers.
In NSW, the hangover could be seen in the months following the lockdown, as officers continued to employ these measures to shut down protests.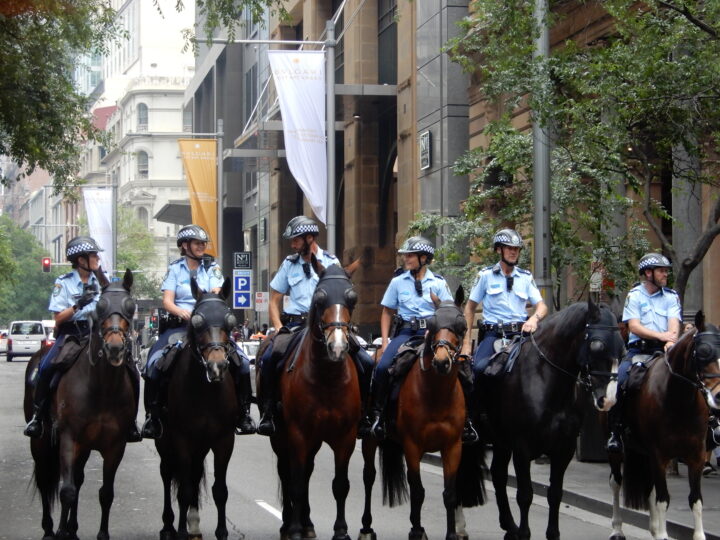 NSW mounted police were deployed to Sydney's southwest to enforce lockdown restrictions
Similar to the current police approach in Sydney's southwest, Victoria police deployed 500 officers to ensure 3,000 Melbourne public housing tower residents did not leave their flats in July 2020. The predominately poor migrant families were given no warning prior to the hard lockdown.
As Victoria's 2020 shutdown grew longer than other states, it became the flashpoint for COVID policing in terms of overreach and brutality.
There were images of officers decked out in military-style gear at the Queen Victoria Markets, as well as some having rammed a mentally ill man obstructing traffic with their car.
The most enduring image was that of a young woman being chocked in the street by a male officer over not complying with mask requirements, despite her having a note from the doctor stating she couldn't wear one. She was subsequently charged with assaulting police.
A Victoria police officer applies extreme force when arresting a citizen for noncompliance with mask requirements in August 2020
The long pandemic stretch
On Monday morning, NSW police minister Elliott stated that over the weekend, police had been working with communities that "don't watch mainstream media and maybe haven't got the message", but now there are no more excuses and it's either a fine or "a trip to the courthouse".
The minister added that 100-odd $1,000 COVID-19 fines had been handed out over the last 24 hours.
Although Elliott made no mention of the thousands of Sydneysiders, who evidently do watch mainstream media and continued to flock to the parks and beaches over the weekend prior.
The last days have seen predictions made around the extended lockdown period moving from one extra week to two additional weeks and then perhaps further dragging on into August. It might be noted that COVID policing overreach grew broader the longer lockdowns persisted last year.
Health professionals are also warning that the pandemic isn't about to subside, despite widespread hopes of a return to pre-COVID normality.
So, if COVID is to become part of the furniture, it is way past time to devise community and health-based approaches to dealing with the virus, rather than trying to arrest our way out of a pandemic.
---
Paul Gregoire is a Sydney-based journalist and writer. He has a focus on human rights issues, encroachments on civil liberties, drug law reform, gender diversity and First Nations rights. Prior to Sydney Criminal Lawyers®, he wrote for VICE and was the news editor at Sydney's City Hub. Other stories by Paul Gregoire published in A Sense of Place Magazine can be found here.
---