"We should call this Australia Day," said one indigenous woman.
They came with their dogs. They came with their kids. They came with their hearts.
There were an estimated 200,000 protestors on the Epic campsite alone.
The 12th of February, 2022, was the Ground Zero of days; when the nation stood up and said no to the authoritarian derangement which had overtaken the country.
In one telling incident, in the early hours of the morning as hundreds of cars every hour continued to pour in, with queues backed up for miles, the police declared the Epic camp site on the outskirts of Canberra to be full and blocked the entrance.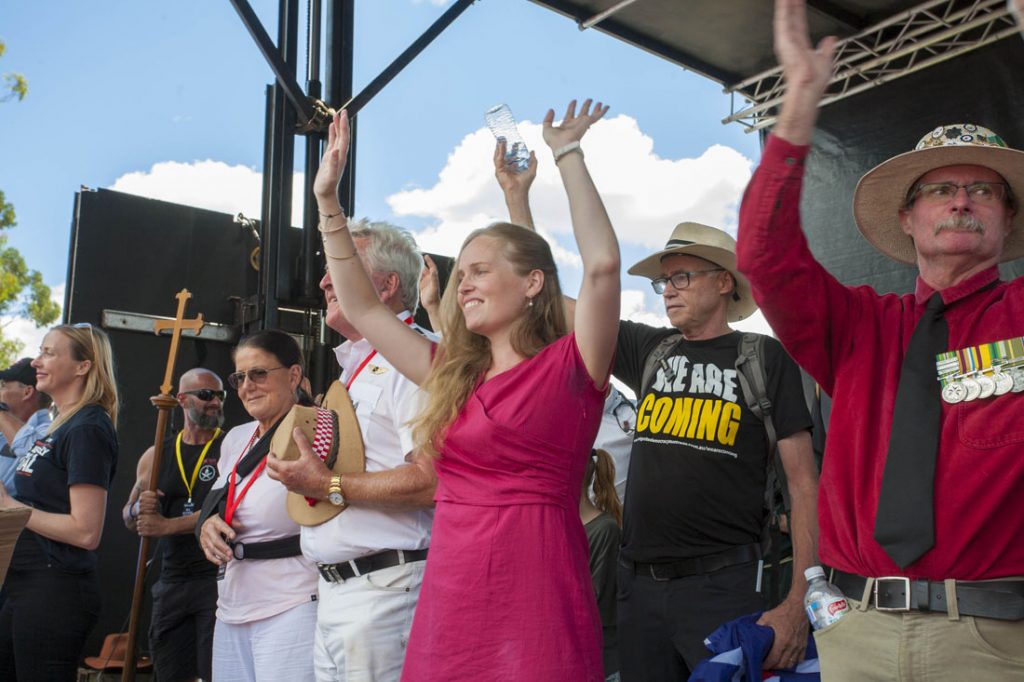 A crowd instantly gathered, chanting "Let them in, let them in".
An opera singer boomed out the national anthem from the chaos: "Australian sons let us rejoice, for we are young and free. Our land abounds in Nature's gifts, Of beauty rich and rare."
Within the hour, the police were forced into an ignominious retreat, and once again the cars, trucks and caravans, estimated at some 350 an hour, continued to arrive throughout the night.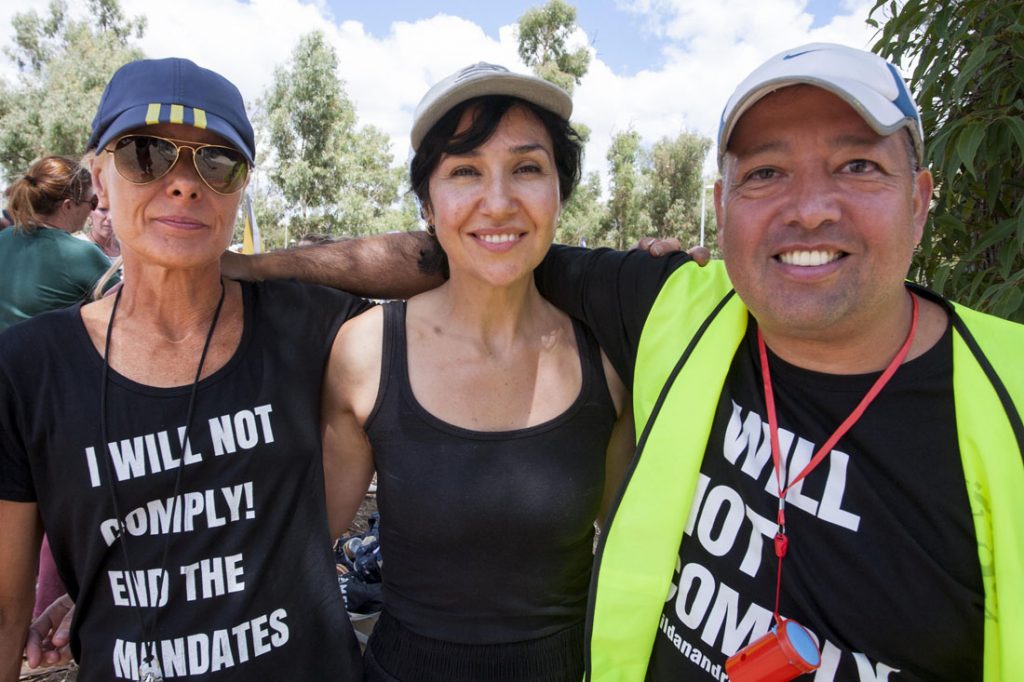 The atmosphere was absolutely electric; some said "spirit drenched".
One protestor said: "You will be telling your grandchildren you were here. They cannot take our freedom."
"This is a big victorious day, a great day," declared another.
***
Kath, 53, a delivery truck driver who lost her job due to the vaccine mandates, drove nearly 4000 kilometres from Darwin to be part of today's rally.
"We've been protesting in Darwin for months, the group is called Free in the NT," she said. "It's for the children, basically. I am a new grandmother. I don't want the kids to grow up in this horrible world.
"We are standing up for human rights. And for choice. I've been made an alien in my own country. I can't work.
"Today was great. We are staying. Whatever it takes to change this rotten system. I've got nothing else to go back to; no job, no house. I was living in a Salvation Hostel before I came here.
"I just knew I had to come and stand up."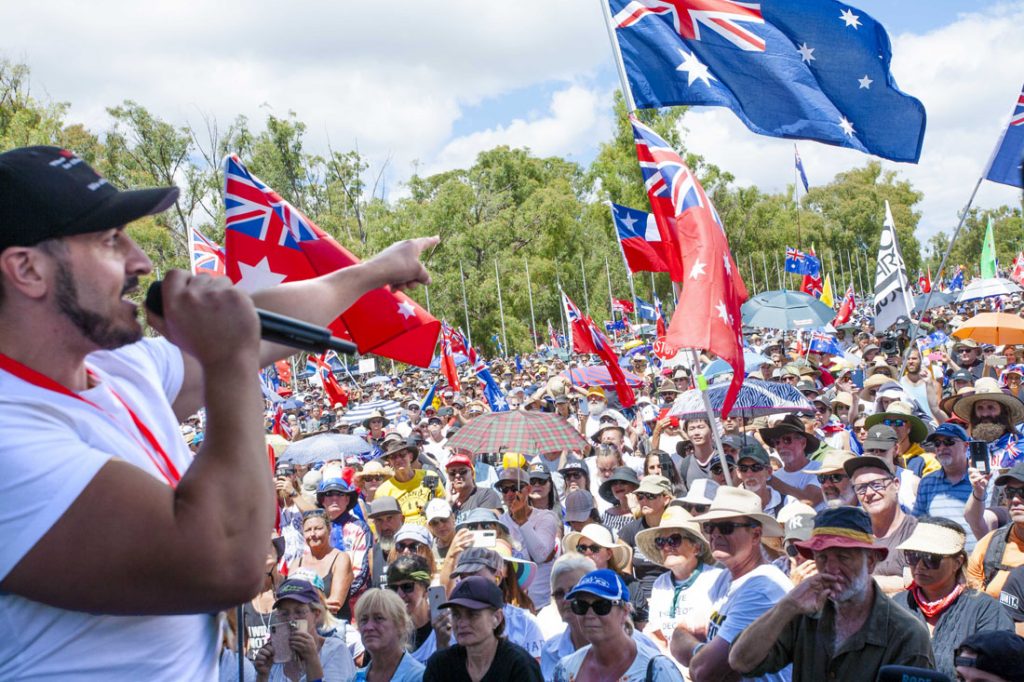 ***
Charles, 59, from Gerringong, a teacher suspended without pay under the vaccine mandate regime, worked as a cameraman at the Australian Broadcasting Corporation on the day parliament house opened, and can be clearly seen in historic footage as he films the Queen.
"I was there at the opening, and now I'm trying to close it down. It was great to see so many familiar faces as well as to meet so many new ones. The people are speaking with their feet against government overreach!!
"We the people are rewriting Australian history."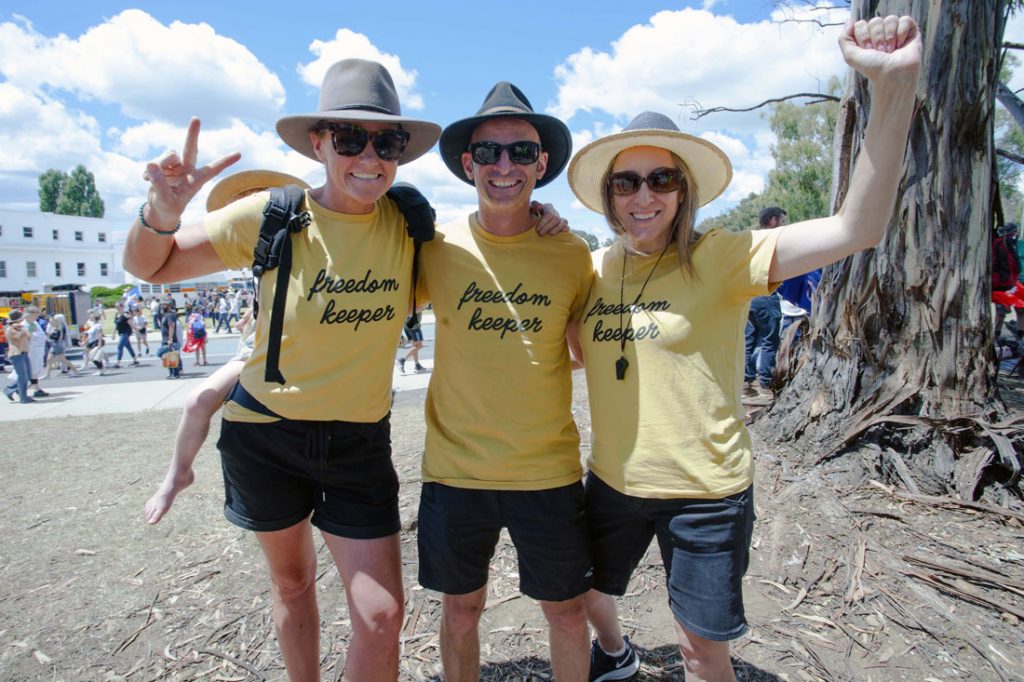 ***
Billy Arnold, 42, from Wollongong was one of the many people travelled from all over Australia to attend today's extraordinary events.
And like so many others, his life has been entirely disrupted by Covid restrictions and mandates.
"It's the single largest collective event in Australian history of people coming together," he said. "Regardless of whether you are vaxxed or unvaxxed, there is not a single judgement from anyone. Everybody is equal no matter what demographic you are from.
"I arrived at Commonwealth Park, one kilometre from Parliament House, at 9am. I started filming while rollerblading on the main road as protestors arrived. Within one hour, of the top of my head I would say there was easily half a million people there.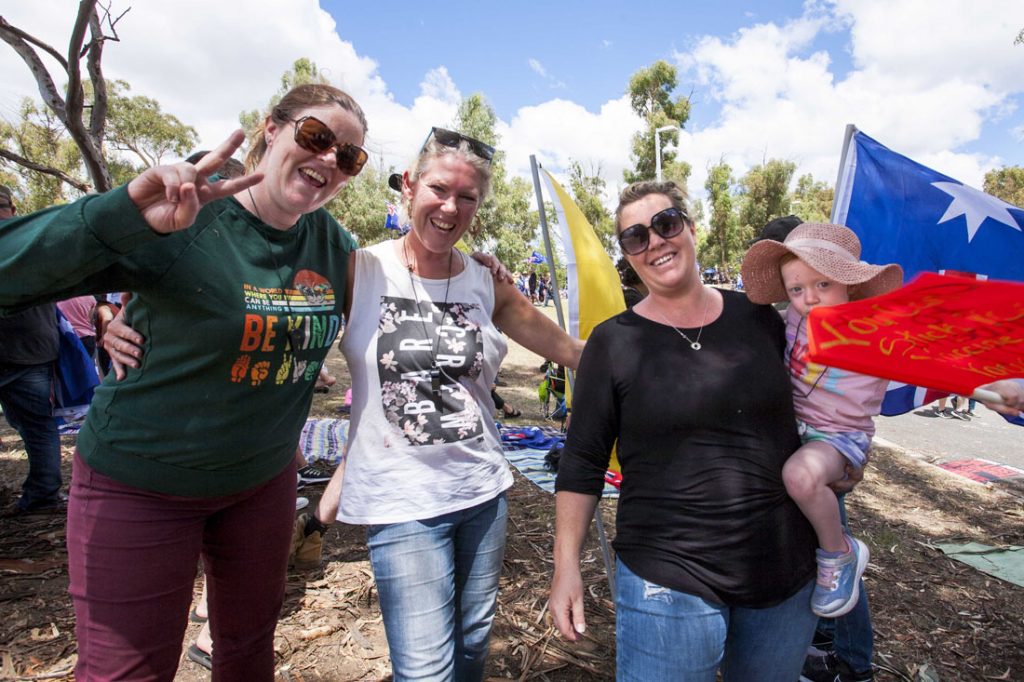 "As the protest started to make its way from the park to Parliament House people were 20 wide on each side of the road and one kilometre long at least by the time they reached the House. And for two hours they were still making their way in droves.
"Never ever have I felt so alive and so welcomed by complete strangers. Words could not explain how I feel, except for the fact that everybody made comments about how great my smile was as I passed them, because it was from ear to ear the whole time."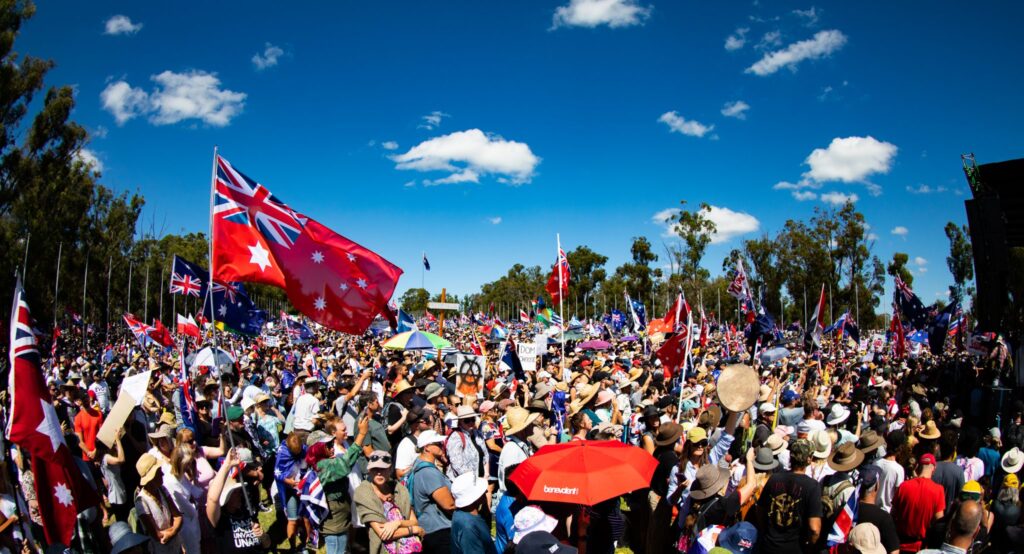 ***
Claire, 64, a finance broker from New South Wales, said: "I came because I wanted to take a stance for my grandchildren's right to choose their futures. I was actually crying. I was extremely moved. I couldn't believe how many people came together in one body for one common cause; to unite Australia for all our freedoms."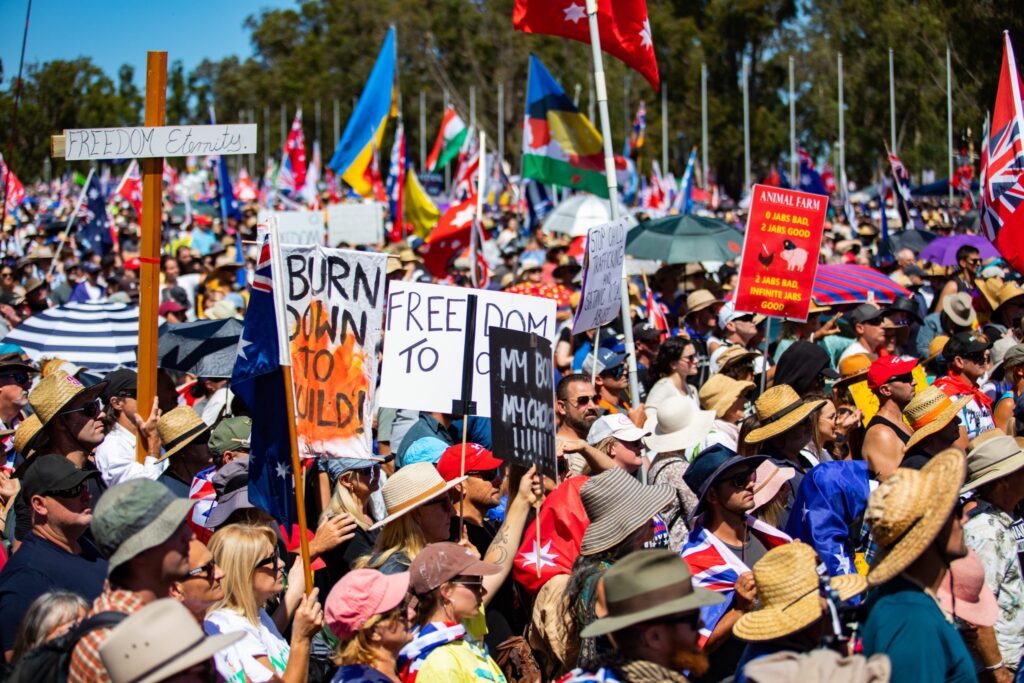 ***
Nancy, 75, a natural therapist from Queensland, had been at Camp Freedom for the past seven days.
"I drove down my little car on my own. I got told by God I had to be here. I pushed against it for a couple of days, and then just got in the car with a mattress so I could sleep in the back.
"I felt compelled to be here. Many, many people are saying the same thing, they had a voice in their head, they just had to go.
"For me it was the mandates, because I didn't have a choice anymore. My three kids and two grandkids have all been vaxxed because of coercion for their jobs. I am absolutely frantic about babies being vaccinated. My stepson got inflammation of the heart and ended up in hospital after his vaccination. I have heard heaps of similar stories, particularly with young men. It is absolutely terrifying.
"That's what the grandparents I meet all say, what about our grandkids? We're old, we're going to be gone, but they've got a life to live."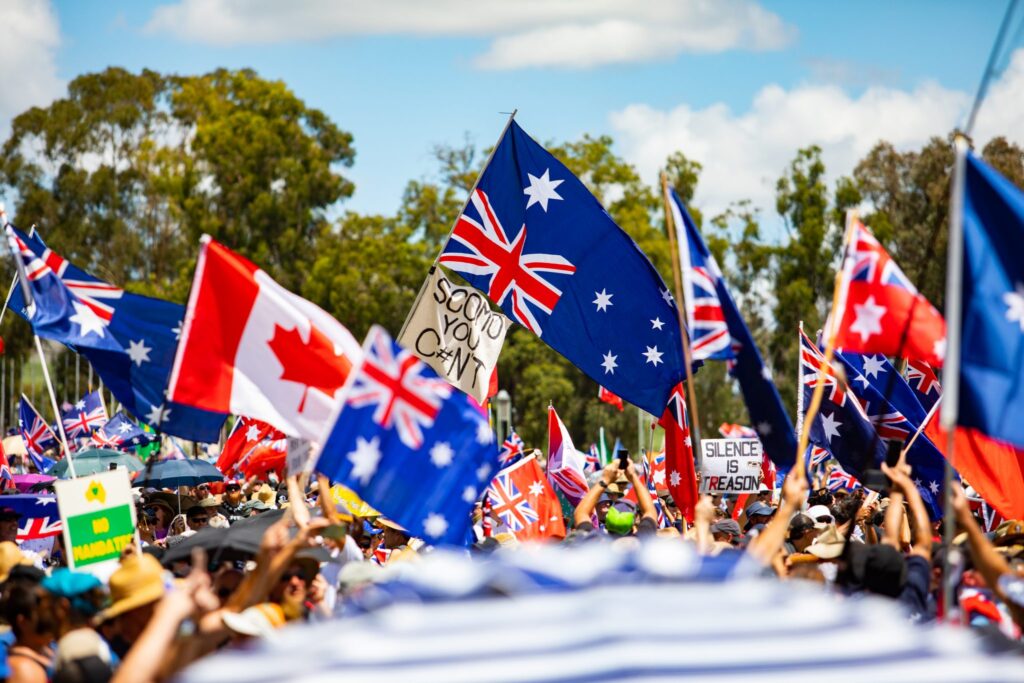 ***
Skeeta, 55, a home maker from South Australia, one of the many people who would never normally be found anywhere near a demonstration, said she had been waiting for just this moment.
"I fight for the rights of all Australians," she said.
"I came by plane yesterday. There were no police at the airport. I saw the camp from the air, and it amazed me how full it was.
"My husband has an auto-immune compromised system and is continuing to deteriorate. He has been mandated for his essential service job. He's not allowed back into Western Australia, where he flies month on month off.
"He's at home in South Australia. He's tired of fighting. And I've taken his role."
***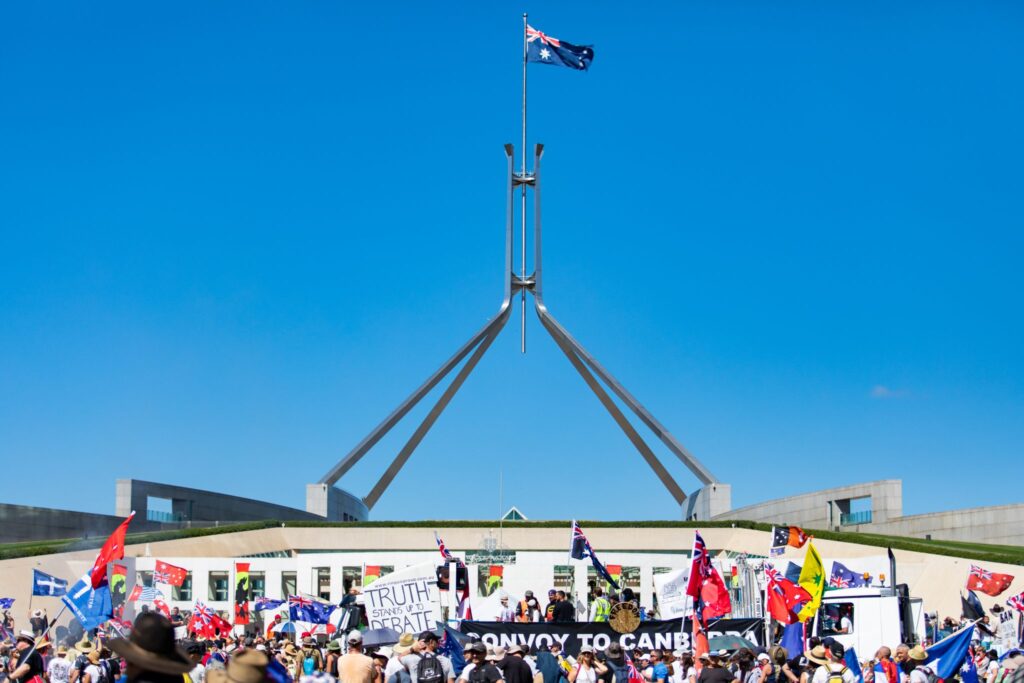 One of the warriors of that day called himself Spartan. He was a 30-year truck driver and a former ex-military officer.
He had been arrested at protests several times over the previous two years.
He calls it "catch and release".
"I am here to reclaim freedom. I am here for the children. What made me fight now? I became a dad.
"I was one of the 300 Spartans against the Persians, and I am the Spartan against tyranny."
***
***
Louise, from North Queensland, is an immunisation nurse, the mother of seven and the grandmother of eight.
She has received a number of awards, including the National Medal of Australia for her volunteering with the State Emergency Service.
"I didn't do it for medals, it was to help people. I am here to help humanity.
"As an immunisation nurse we were taught you need informed consent, not to coerce, and that you must know the ingredients of what you are injecting. With all my years of service, for everything I have done and everything I can contribute, I have lost it all because I will not be jabbed."
***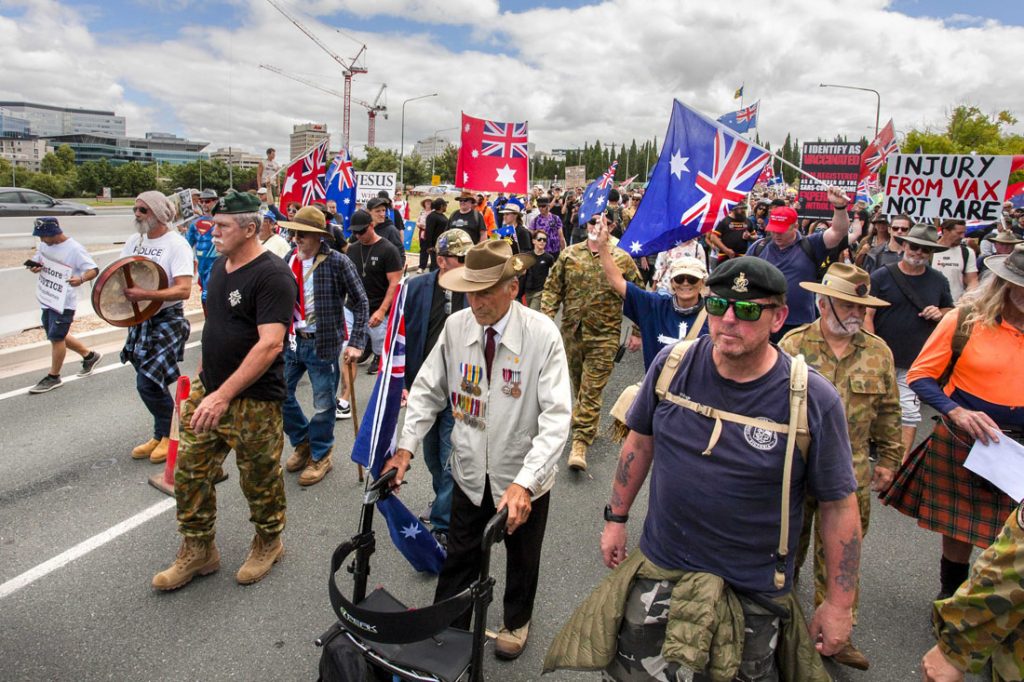 Susan Pavan, a former journalist with the national broadcaster fully occupied taking care of four young children, nonetheless found time to play her role, interviewing and photographing participants.
"People were upset. They expected something to change. There was a tsunami of freedom. People don't want to go back to their old lives. They want to stay. They want to start a new way, a new life.
"Everywhere you go people are smiling at you, hugging each other. After the last two years separated from normal society, people have found a new Australia here. They can't believe how wonderful it is.
"Everyone says they are doing it for the children. I can't believe the energy. I was walking around at 1.30am, and people were still pouring in. It hasn't stopped.
***
One dad piggybacking with his daughter on his shoulders wore a t-shirt with the message: "There's a future version of me who's proud. We are strong enough!"
Other members of the family, from Coffs Harbour in NSW, all wore messages blazoned on their outfits: "Mandate Medical Freedom", "Freedom Over Fear" and "My body, My choice, My Children."
"I have never seen anything like this, this is outstanding, it takes your breath away. The energy is just incredible. It just blows you away. There are so many people thinking the same way."
And then he, too, started crying.
---